What can be discovered from the fragments of the past, asks the artist in their first solo show at Marabouparken Konsthall in Sweden, and can they ever truly be pieced back together?
In his most recent film, The Unburied Sounds of a Troubled Horizon (2022), Tuấn Andrew Nguyễn continues his exploration of the emotional ramifications of the Vietnam War through its most appalling protagonist: the bomb. Nguyet, a junkyard co-owner and self-taught sculptor, discovers the therapeutic qualities of a fallen bombshell that has been transformed into a temple bell by monks and is said to produce a sound containing a frequency with the capacity to heal past traumas. After visiting the temple, she decides to construct her own bell, in the hope of freeing her mother from haunting memories of the war, which claimed the lives of her husband and sons. The film is at the centre of the Vietnamese artist's first solo show in Sweden, which also includes two previous videos and a selection of Calderesque mobiles constructed from found brass artillery shells. The Boat People (2020), set in a climate-collapse future, follows a group of children who travel to a place 'formerly' known as Bataan, where they create wooden replicas of historical objects – a ship, a rifle, a sword – later burning them as part of a sacred ritual. In The Island (2017) Nguyễn juxtaposes documentary footage from Pulau Bidong, an island in the South China Sea where the Malaysian government ran an enormous camp for Vietnamese refugees between 1978 and 1991, with a dystopian-future narrative in which a man and a woman explore the now-deserted isle.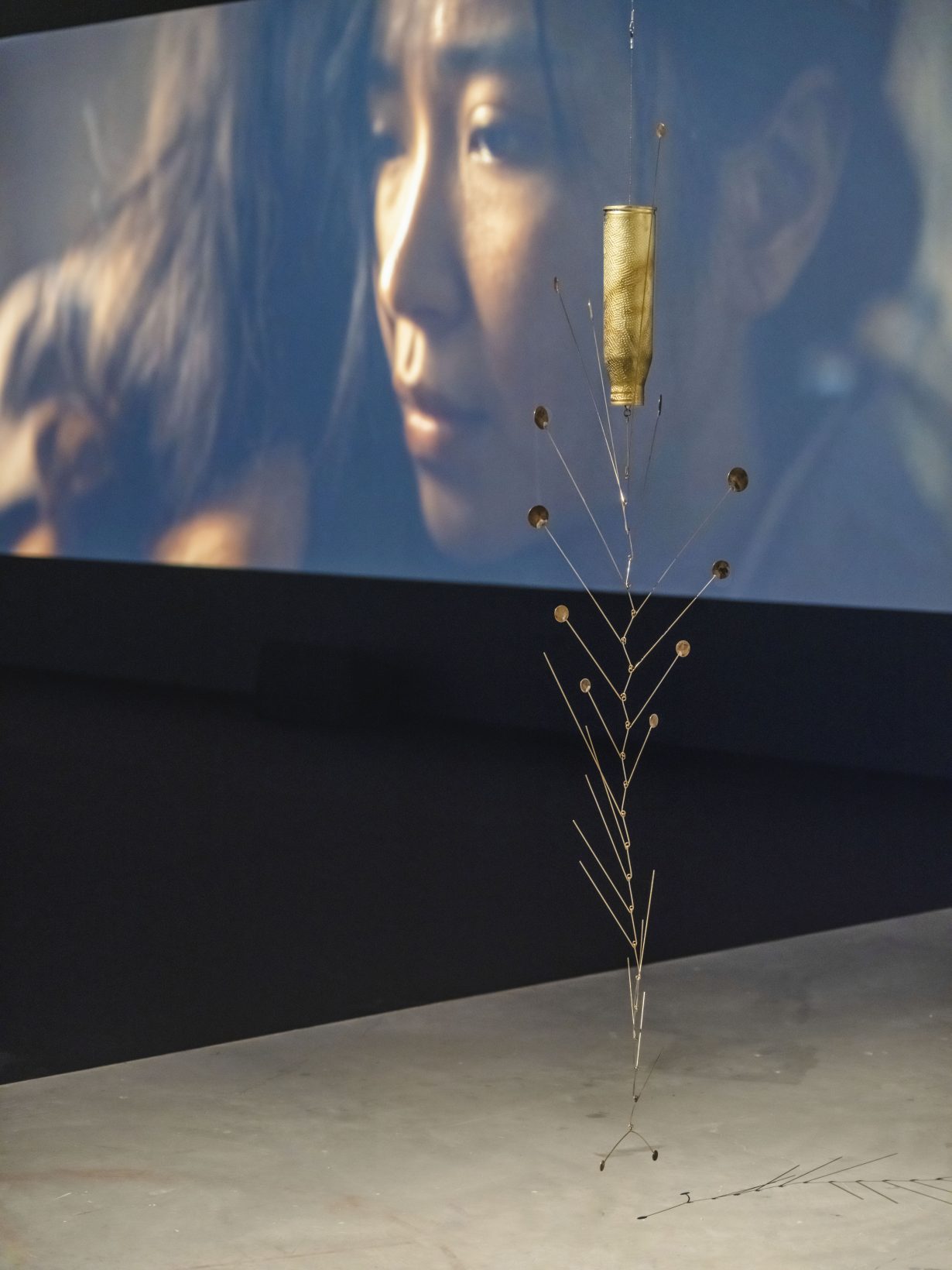 Despite its onerous subject, The Unburied Sounds… stands out among the inclusions for its surprising humour. Nguyet's grumpy, unbothered mien adds a quirky atmosphere to the film, which allows the historically charged narrative to unfold unhurriedly. Where The Boat People and The Island are more static and grave in their speculations, The Unburied Sounds… also hews closer to the real, which allows for a more direct emotional route to restoration. Nguyễn's answer to the irrevocable principle of intergenerational trauma – repetition – seems to be transformation itself, which, whether through speculative remapping of previous events or via the metamorphosis of lethal objects, cannot take place unless we confront our desire to adhere to the past. Letting go is traumatic, his work emphasises, but reliving history will never free you from it. 
It Was What Is Will Be at Marabouparken Konsthall, Sundbyberg though 16 April