The exhibition at Nice's Villa Arson showcases generations of Italian artists who have emerged from the 1990s to the present
The wealthy banker Pierre-Joseph Arson established his family mansion in the hills of Nice in the early nineteenth century. Mid-century watercolours show the original Villa Arson in a fully bucolic panorama, its demure Italianate garden stretching towards the sea. By the 1960s the French state, now owner of the former mansion, entrusted the task of transforming the estate into an art school, artists' residence and exhibition venue to architect Michel Marot, who devised a spectacular brutalist complex that echoes ancient Provençal villages. All of this is barely visible if seen from downstream, hidden as it is by parasol pines, cedars, oaks and cypresses. Winding and concealing: qualities well suited for Le Futur derrière nous, a group exhibition curated by Marco Scotini, showcasing generations of Italian artists who have emerged from the 1990s to the present.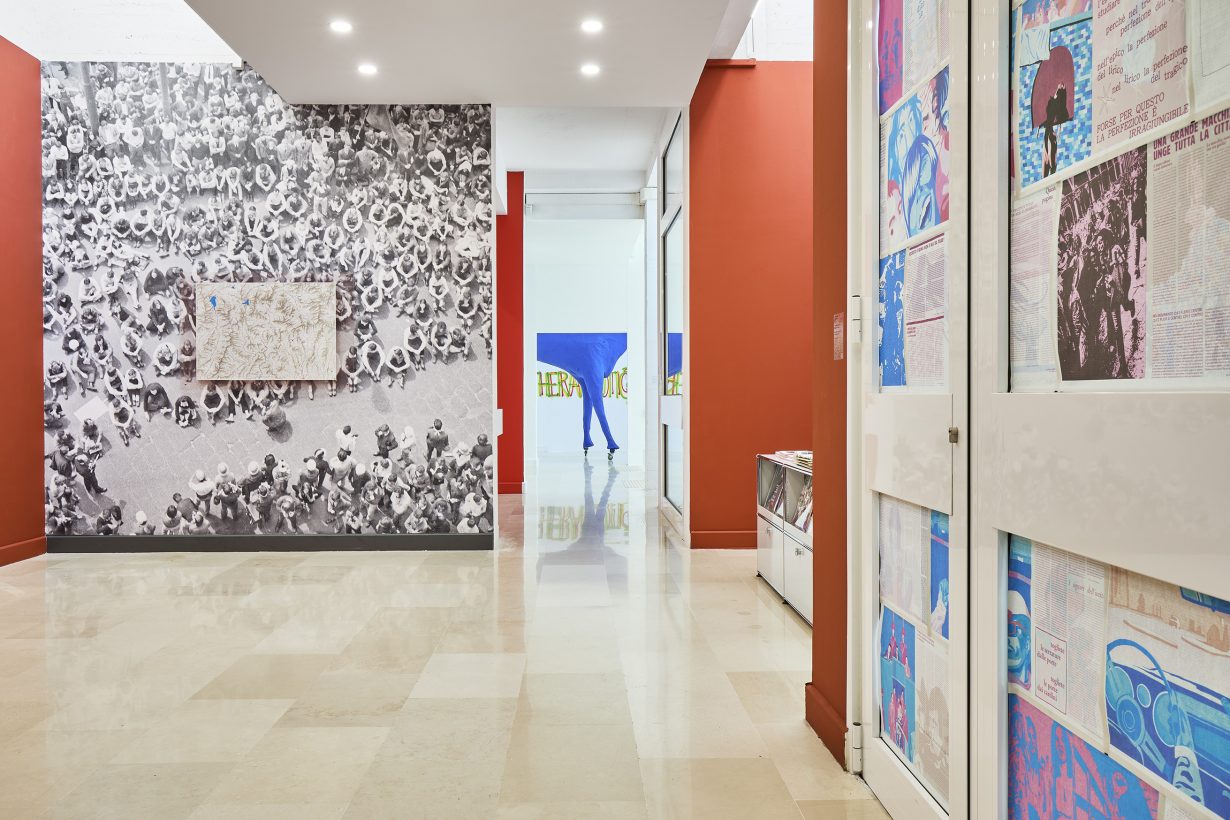 The focus is on collectives and artists whose work relates to the shift in creative and political energies that occurred in the 1980s due to the exacerbation of social conflicts, state violence, the emergence of commercial television and the return to traditional values. The so-called riflusso was thematised in many cultural exports of the time (the films of Nanni Moretti, for example). Opening the exhibition is a blow-up shot of a sit-in at Piazzale Loreto in Milan, taken by photojournalist Uliano Lucas in 1970, juxtaposed with an extract from Luca Vitone's Carta atopica (Atopic Map, 1988–92), a morphological map of an unspecified land whose names have been erased, rendering it useless to seek directions or to orient oneself. Nearby, Rossella Biscotti shows works from The Trial (2010–13), begun while the artist was undertaking photographic research on fascist architecture and resulting in a sculptural, performative, audiovisual elaboration on archival material from the so-called 'April 7' trials, which ran from 1979 to 1988. Thousands of militants and intellectuals were caught up in the Italian state's political witch-hunt, that saw the likes Antonio Negri – Marxist professor at the University of Padua – accused of being an ideologue and promoter of armed subversion. Protesting in Negri's defence, Gilles Deleuze would liken him to Giuseppe Pinelli, an anarchist who died falling from a window at a Milan police station while illegally detained.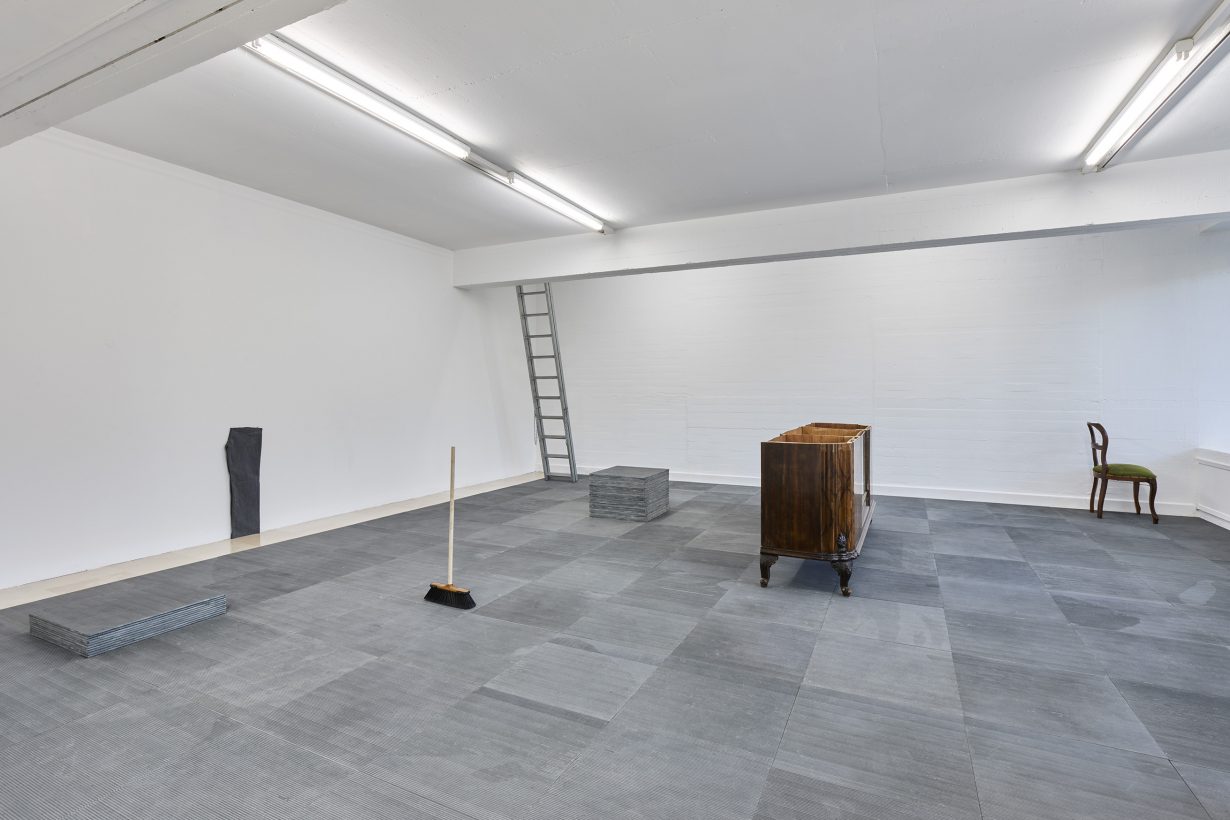 The Pinelli case is directly addressed by Francesco Arena, in an installation of various works that allude to this infamous death: a metal ladder equivalent to the distance of the fall, disparate objects cut to the height of the police station's balustrade, a modular floor that replicates the length of the anarchist's last walk. These enumerations, reenactments and translations seem like forms to fathom hidden machinations, or a form of sedation for a shared post-traumatic stress. In La notte del Drive-In. Milano Spara (2013) Francesco Jodice roguishly edits clips from low-budget crime films of the period, to unite the emotional registers of violence and fear with mainstream social unease. In other cases, the invocations of history are more factual, such as in the works of the Stalker collective, which organised participatory actions in Rome's Corviale neighbourhood, a modernist housing utopia that quickly turned into suburban dystopia. Or they're poetic, as in Adelita Husni-Bey's sound piece Cronaca del Tempo Ripetuto (A chronicle of histories repeating, 2021), based on exercises in radical pedagogy. Or they are ironically surreal, as Carla Lonzi's books transformed by Claire Fontaine into bricks to be hurled in a riot (Brickbat series, 2015) or the hypnosis session, on vinyl record, that is expected to save us from work addiction in Danilo Correale's Reverie – On the Liberation from Work (2017).  
Particularly engaging is Outside the Theatres (2021), by Rä di Martino, a video that traces the history of the Centre for Theatre Research and Experimentation (founded in 1974 in Pontedera), projecting us into a universe that seems, seen from the present day, parallel to our own: a provincial town becoming part of a circuit of international artistic experimentation, whose purpose was the production of a collaborative sense rather than the aesthetic 'measurability' of its output. Scotini has succeeded in recounting a lineage stemming from a crucial, if brief, historical moment, circumnavigating the long nostalgic shadow of Italy's Transavanguardia postmodernists, not only thanks to the strength of the positions expressed, but also to a staging that fully employs the narrative potential of the exhibition format.
Le Futur derrière nous (The Future Behind Us) at Villa Arson, Nice, through 28 August