ART TAIPEI 2022, organised by the Taiwan Art Gallery Association (TAGA), will be held at Hall 1 of Taipei World Trade Centre from 21-24 October
ART TAIPEI is an art fair that takes place in Taipei in October of every year, and is also an important platform for international art exchange in the Asia-Pacific region. With 138 exhibitors gathering in Taipei – the largest number of exhibitors since the pandemic began – visitors to the fair will have the opportunity to view exciting creations brought by 89 galleries from all over Taiwan, as well as works brought by 38 international galleries from 8 countries.
Coinciding with TAGA's 30th anniversary, ART TAIPEI has set up a special exhibition entitled TAGA 30th Anniversary Exhibition: The Future of Memory, to lay the foundation for the future development of the art market through the history of the gallery exhibition, and attempts to extract the cultural viewpoints of Taiwan for the future from across four generations.
ART TAIPEI has taken in perspectives of art from different cultures and countries around the world; at the same time, Taiwan's aesthetic views is presented to the world through this international platform.
---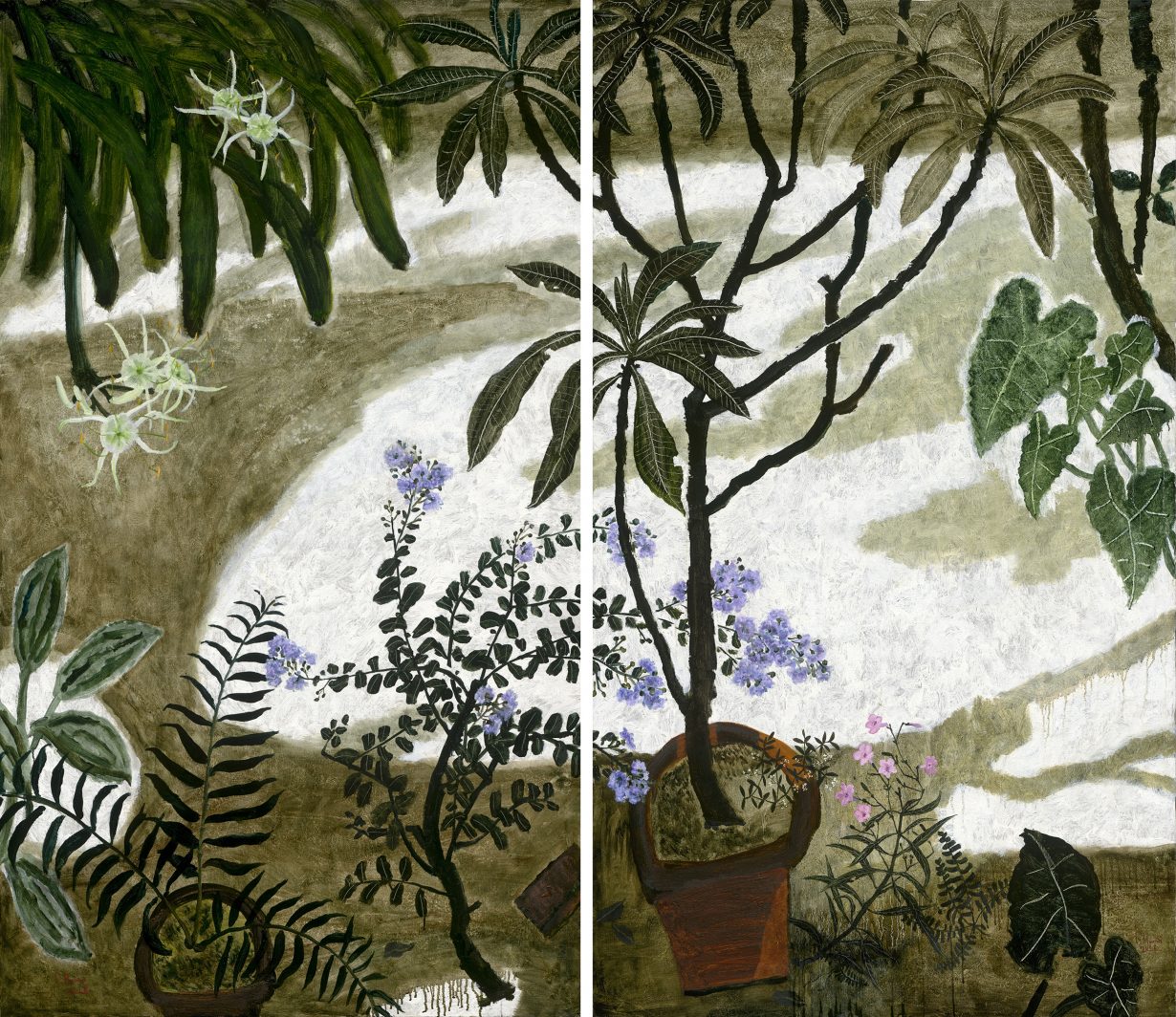 DONG Shaw-hwei at Asia Art Center, Booth No. D01
Dong Shaw-hwei (b.1962) committed to analysis of the Zhuangzi's thought and aesthetics when she studied in the graduate school of art. Dong restructured the common space in daily life on her paintings with many plants, wooden tables and chairs. The 'Courtyard' series originated from Dong Shaw-hwei's home, which is a Japanese bungalow style house, located in Taipei, Taiwan. The series reminiscences on the domestic culture experienced by the artist, and is also influenced by the consequent changes in her life. Dong tries to retain all her treasured memories while reflecting the Chinese traditional wisdom which is close to the ideas of 'Taoism'. This garden naturally changes with season, keeping traces of time and memory, and therefore having profound cultural implications. Dong treasures the time and atmosphere of her courtyard dearly. However, these old courtyard-surrounded houses are quickly vanishing as Taipei's metropolitan area is going through drastic change and modernization. Dong records these elements in her paintings for history as well as for her own recollection. During this period of her artistic creation, her style was a continuation of her development in Post-Impressionistic painting, showing objects in boldly bright colours with undulating shadows and controlled brushwork.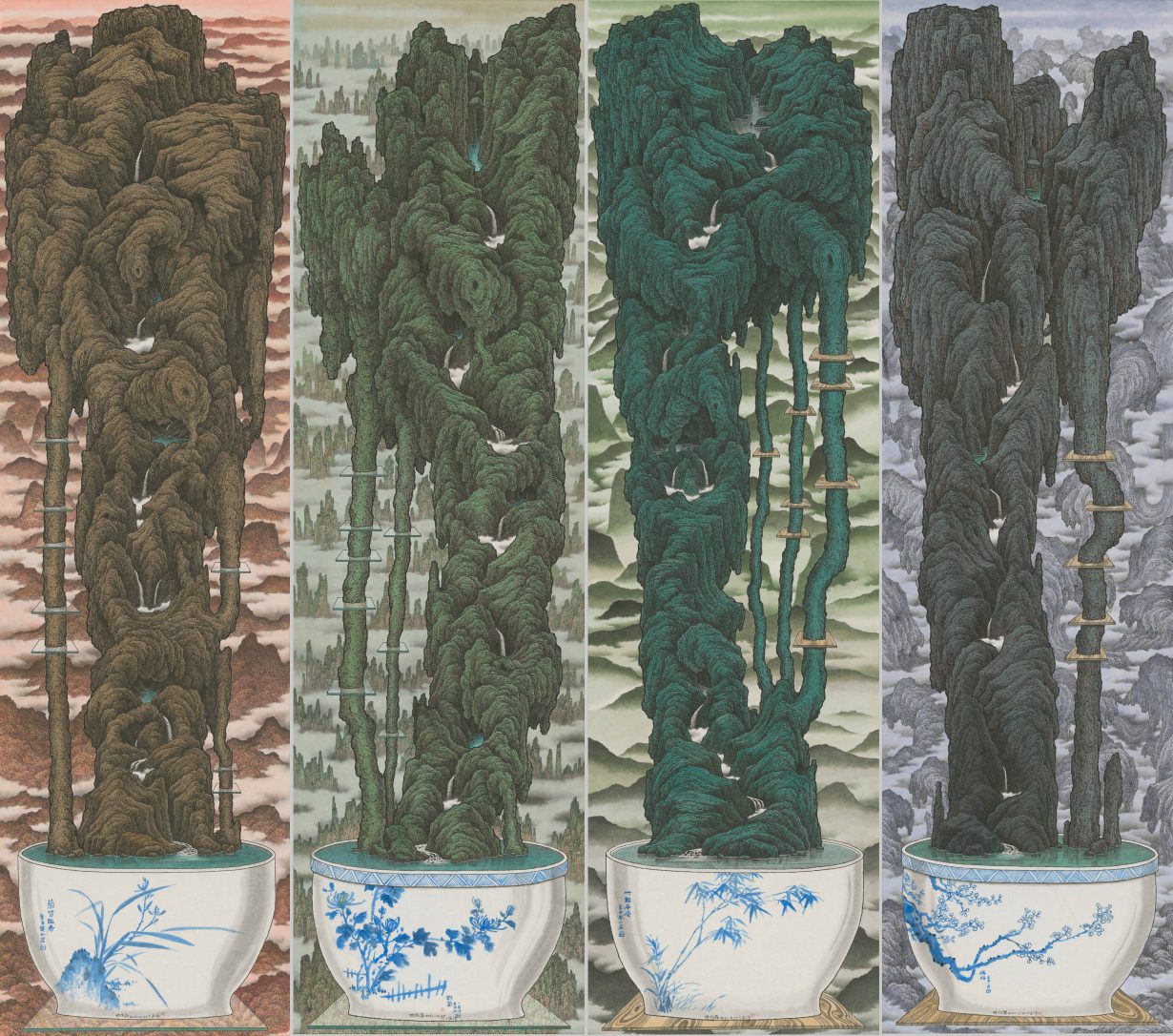 TENG Pu-Chun at CHINI GALLERY, Booth No. D03
Teng Pu-Chun (b.1957) often observed patterns of stones and structures of trees since childhood, which gave him the sensitivity to perceive hidden details in solid texture. Unyielding, sharp and mature at an early age, Teng considered academic education a part of the learning process rather than the goal. The artist has been creating ink paintings for a long time. His ink landscape that appropriates realistic scenes with multiple perspectives demonstrates his unique style and sets him apart from traditional ink art. Different from the elegance embodied by traditional literati painters, his work displays a sense of individual carefreeness; in particular, the unique technique of 'rolled wrinkle strokes' created by himself has formed a unique vocabulary of modern magical ink painting. Pure and delicate, his paintings demonstrate unexpected majesty. Although the artist mainly portrays natural scenes of mountains, waters and trees in an archaic atmosphere, his fantastical and illusory representation transports viewers to a surreal, magical realm of contemporary landscape beyond what is seen by the naked eye.
Po Chun HSIAO at Tansbao Gallery, Booth No. G11
Hsiao Po-Chun (b.1991) received his Ph.D. in Fine Arts from National Taiwan Normal University (2022). His works combine various visual elements such as the Buddhist images of Mogao Cave paintings in Dunhuang, the cultural motifs of gardening in Jiangnan, or the elegant stone offerings of the Chinese literature, as well as the fashion symbols of luxury goods and high fashion brands, in an attempt to reveal how modern people explore the self-realization of lived values in the midst of the contradiction between spiritual pursuit and material veneration. Hsiao Po-Chun enhances the colour effects of mineral pigments on the basis of ink brushwork, and even takes the form of installation with dimensional shapes expressing a new and innovative style with traditional ink, atmosphere and contemporary aesthetics.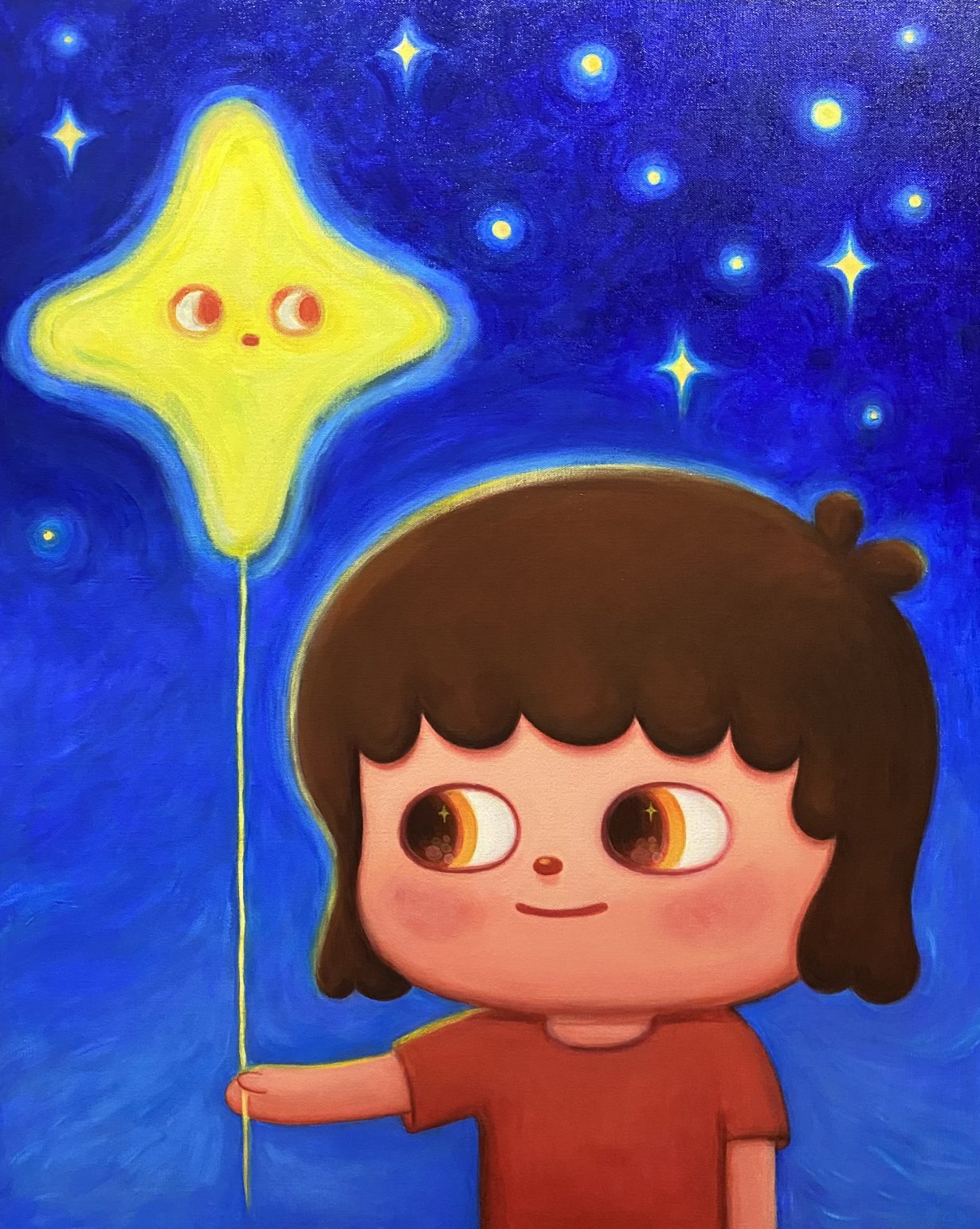 XX Li at Soka Art, Booth No. F05
The works of XX Li, who graduated from Iowa State University and lived in Boston and Miami, show in the form of concise abstraction colours with intense emotional figuration. There is a diversity of expression, a fusion of strong bright colors, clean light, shadow and vivid expressions, which all convey a kind of pure and ingenious personality. Li continues the popular 'superflat' style of art, but uses semi-stereoscopic light and shadow with deliberately blurred edges, adding an infectiousness to the image through the interaction between the characters and the objects. In Shining Like A Star at Night, the contrast between the warm and cold colours, and the details of the pupils reflect the shining starlight.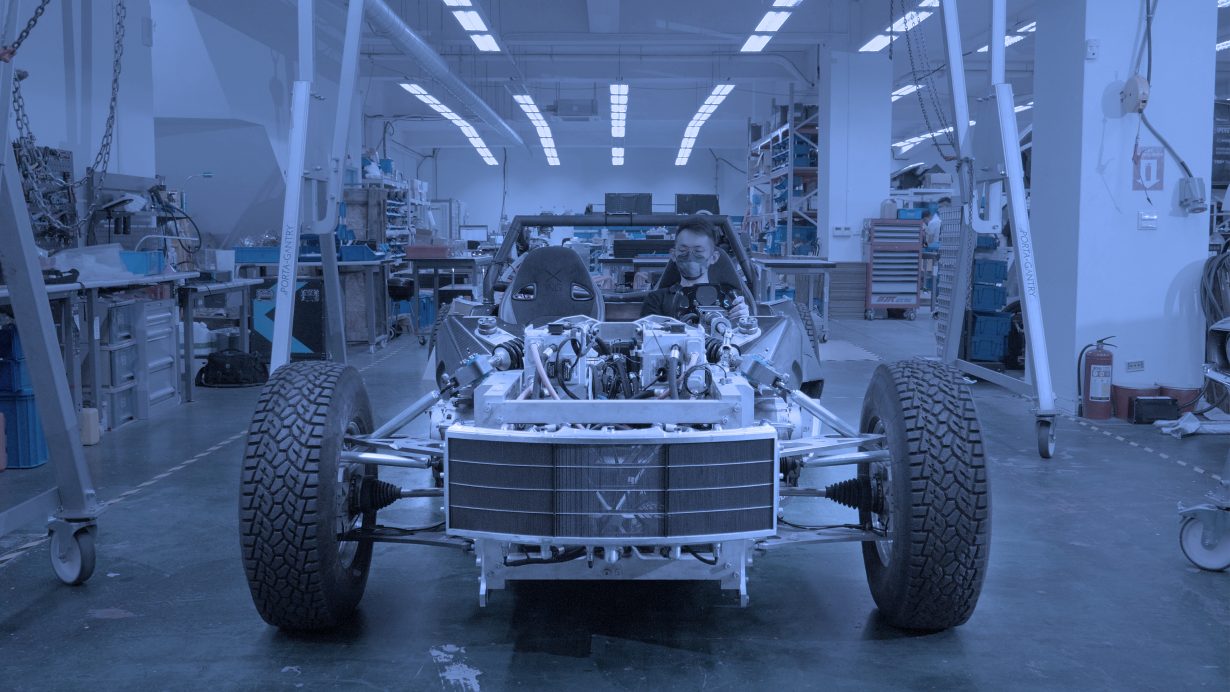 HSU Chia-Wei at LIANG GALLERY, Booth No. E01
Chia-Wei Hsu is an artist, filmmaker, and curator whose work merges the language of contemporary art and film unearthing the complex production mechanisms that are behind the process of image-creation. In Electronic-mobility, the artist dives into the technical history of electronic products, starting with the valve radio produced by Panasonic in Taiwan in the 1950s and 60s to the new battery technology of today. The artist collaborates with XING Mobility to film the production process of battery and the electric car under the code name "Miss R". He also invites a rapper to make the technical principles of making valve radio and electric car battery into a rap song. As the speed of the electric F1 race car accelerates, the rapper also switches gears, and increases the tempo and speed of speech. The sound in Electronic-mobility is broadcast through a 1960s Panasonic vacuum tube radio, and the video is shown on an LED screen. The overall power required to play the work is from the battery manufactured by XING Mobility. Consequently, the technology of the vacuum tube and the contemporary semi-conductor and battery technologies are amalgamated in this installation, whereas the way of how electrons flow shows this particular technical history and its future possibility.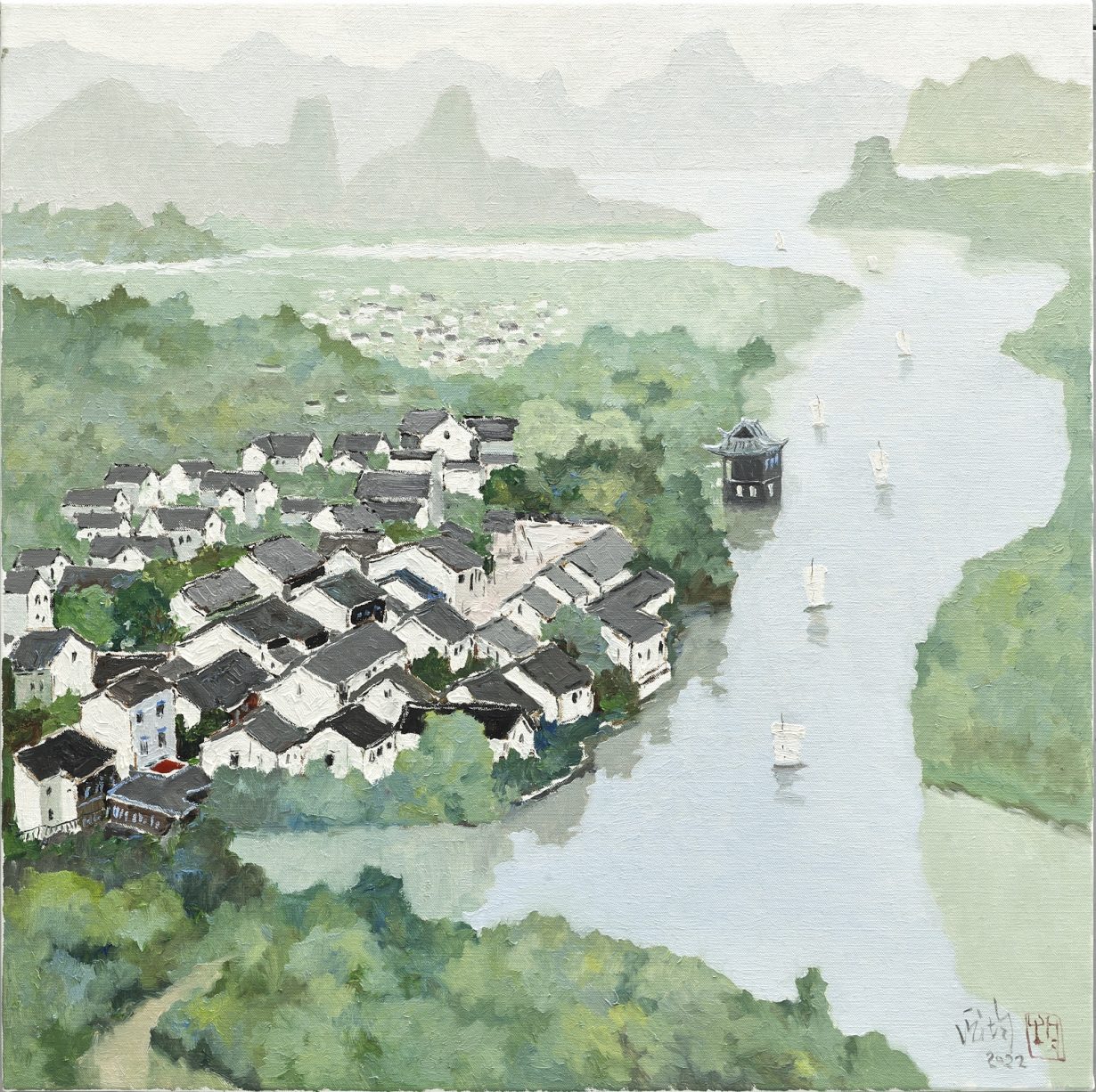 Jiun PANG at EVER HARVEST ART GALLERY, Booth No. C07
Pang Jiun was born to an artistic family in Shanghai, 1936. His father, Pang Xunqin, had earlier studied oil painting in France, and after returning to China, he and Ni Yide together founded the Storm Society (Juelanshe), a modern art group. Pang Jun's oil paintings blend Chinese and Western styles. Apart from his firm foundation in French academic drawing technique and the unrestrained palette of the Impressionist and Fauvist artists, at heart he is more dedicated to the creation of Chinese-style oil painting. In his early years, as a result of his extensive traveling throughout northern and southern China in order to do scenic painting, he became aware of the endlessly fluid transformations of grey shadings through close observation of mountain mists. Through the physical practice of completing one after another work, he refined his oil painting techniques to capture the poetic beauty of China's landscape, so that he finally pioneered new approaches in Eastern oil painting for sketching the idea.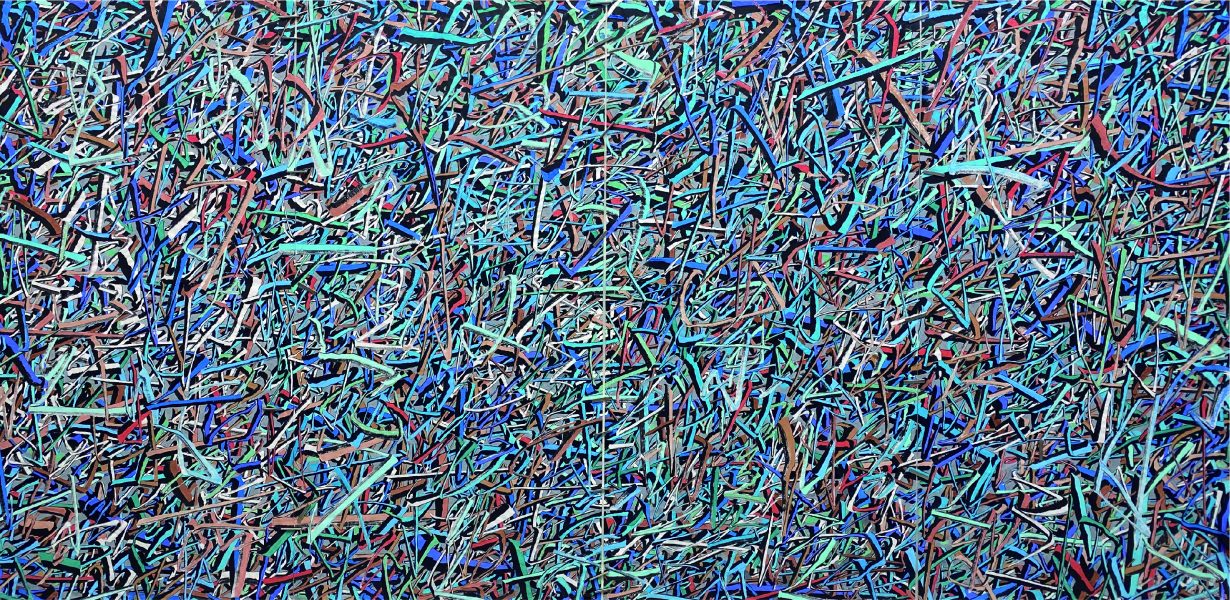 Shiming Hao at Yi Yun Art, Booth No. C08
Born in Shandong, China, Shi-Ming Hao (1977) deconstructs and then reconstructs Chinese characters, breaking through the established spatial and viewing framework to create an abstract expression of contemporary ink, incorporating calligraphy into landscape painting, and presenting a state of unrestrained writing and painting through the interplay and sublimation of language. He deconstructs traditional painting and calligraphy, removing the most basic element – the line – and reconstructing it. The work takes on a complex yet minimalist abstract style by using double lines to outline the strokes of the text and then dismantling the original words into line images.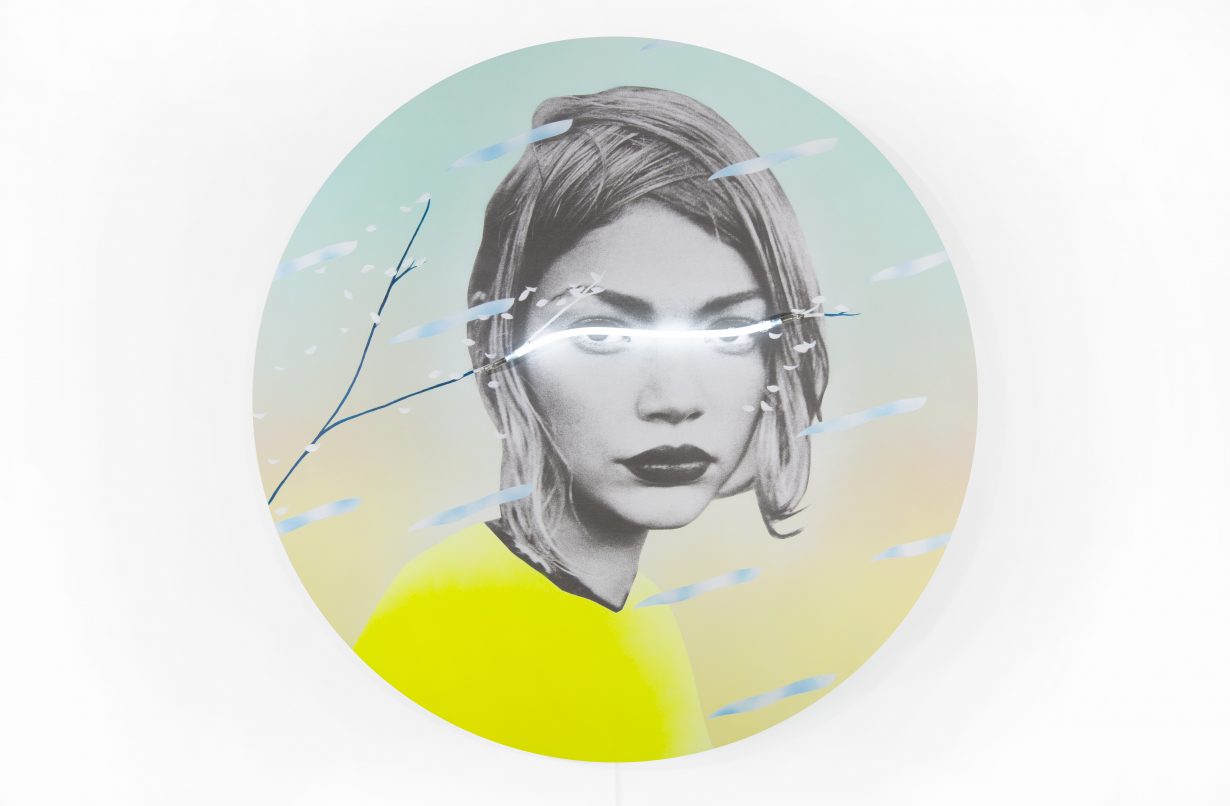 Javier MARTIN at 333 Gallery, Booth No. F02
Javier Martin (Spain, 1985) is a multidisciplinary artist who bases his creative exploration on the careful observation of his surroundings, detecting semiotic relationships that might otherwise pass by unnoticed to an unperceptive viewer. Martin's most recent works show him revisiting the concepts behind his earliest works in the Blindness collection. In these large scale and expressive collages, Martin layers paint, prints, paper ephemera, and neon in order to present the Blindness concept with new complexity. Whereas he forces participants to examine their own blindness in his installations, these mature works show Martin mining his own oeuvre to reexamine Blindness more than a decade later. These reflective pieces have been exhibited simultaneously, at Plan B at David Zwirner and in a solo exhibition titled "BLINDNESS" at Valli Art Gallery New York in March, 2019.