ART TAIPEI 2022, organised by the Taiwan Art Gallery Association (TAGA), will be held at Hall 1 of Taipei World Trade Centre from 21-24 October
ART TAIPEI is an art fair that takes place in Taipei in October of every year, and is also an important platform for international art exchange in the Asia-Pacific region. With 138 exhibitors gathering in Taipei – the largest number of exhibitors since the pandemic began – visitors to the fair will have the opportunity to view exciting creations brought by 89 galleries from all over Taiwan, as well as works brought by 38 international galleries from 8 countries.
Coinciding with TAGA's 30th anniversary, ART TAIPEI has set up a special exhibition entitled TAGA 30th Anniversary Exhibition: The Future of Memory, to lay the foundation for the future development of the art market through the history of the gallery exhibition, and attempts to extract the cultural viewpoints of Taiwan for the future from across four generations.
Other than the gallery section, the fair is also presenting a special exhibition The Artificial, Evolution and Sustainable Future Exhibition. Curated by Shen Bocheng, the exhibition is a reflection on how art creation and exhibitions transform human thinking pattern, the impact of human civilization in the natural environment, how science and technology may alert and highlight the current status of environmental problems; even further propose how artists imagine by using science and technology to assist, protect, and even find the possibility of healing nature. In Wither, for example, the work of the Dutch artist Thijs Biersteker, a digital slice of rainforest disappears at the Amazon deforestation rate. The artist uses scientific statistics to present the current events leading to the disappearance of the rainforest. The on-site installation artwork, with data being transmitted to it, allows the audience to feel the damage and impact suffered by the natural environment in real time.
The Artificial, Evolution and Sustainable Future exhibition – and the following lecture – in ART TAIPEI 2022 attempt to show how art creation and art exhibitions in the Anthropocene can imagine the possibilities of the future, and to address the explorative efforts and creating thinking the artworld will be forced to undertake.
ART TAIPEI has been one of the benchmark art fairs in the Asian region. International galleries, artists, and collectors gather in Taipei in October. Here are some highlights from ART TAIPEI's international contributors:

Yeh Shih-Chiang at Hanart TZ Gallery, Booth No. D04
Yeh Shih-Chiang settled in Taiwan in 1949 at a time when many Taiwanese artists were coming into contact with Western post-war modernism, which inspired them to embark on an intensive period of experimentation, seeking a new language of Chinese 'modernism' with ink painting as its basis. Yeh Shih-Chiang was not interested in becoming another follower of new Western trends, and at the same time he also was averse to being trapped within the confines of the national 'guohua' painting style. He found his solution in a return to the pure and eternal realm of art, taking elements he found compelling from both modern and traditional languages as he developed his own painting practice. A Sky Full of Flowers and a Single Candle is the Chinese ink and colour painting made by Shin-Chiang Yeh in 2008. At that time, he was 80 years old, his physical strength was still sound, yet his mental vigour was not as strong as before. He studied Zen all his life, and would not be obsessed with candles in his later years. However, in the final stage of his life, he still crossed the visual barrier, creating this picture of consistent and riotous profusion. The impermanent joy filled with the sounds of flowers in the sky, convey an admiration combined with knowing the mind and seeing nature; people who see this painting, would experience the wonder of hearing the scriptures.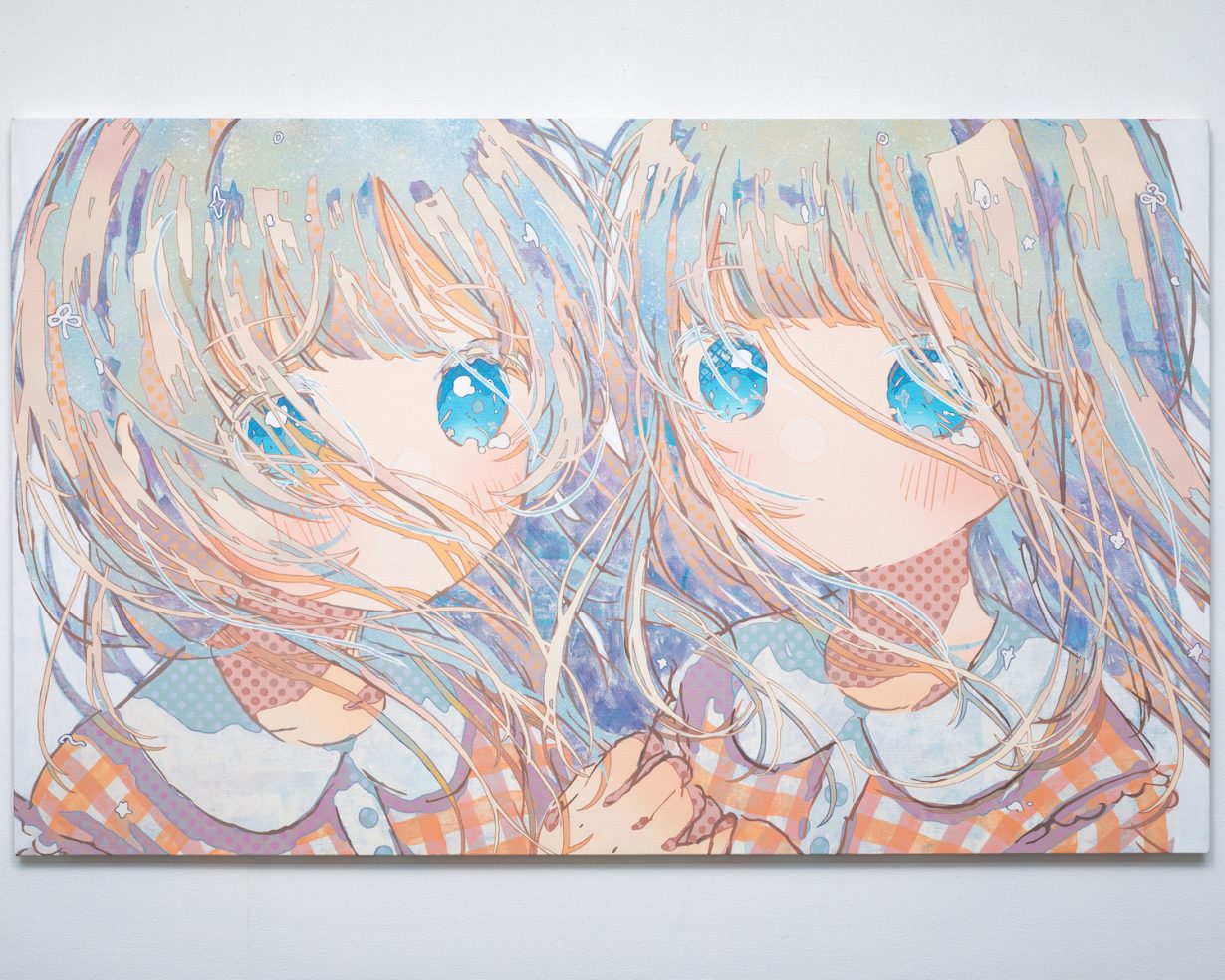 Azusa Nozawa, at MEDEL GALLERY SHU, Booth No. C10
Azusa Nozawa's artistic activities up to now have been based on her reading of the unique Japanese art trends that have been emerging since the 2000s, such as the interaction between fine art and subcultures like animation, manga, and illustration, and her skilful incorporation of these trends into her artworks, exploring the meaning and ideal state of painting for today. In her recent works, however, she has taken on a new dimension by personifying the things she sees in her daily life, based on her own sense of reality, which is inspired by small events and incidents in her daily life. While starting out from a contemporary Japanese approach to painting, Azusa Nozawa has come to use "small stories," so to speak, derived from her own experiences, as light motifs in her works. If we take her works as the basis of her artwork, we can feel that the excessively detailed drawings and the image of a girl as a personification repeated on the screen are somehow an allegory of the obsession that Nozawa herself perceives, and at the same time, we feel as if they are connected to our daily lives, as we continue to live in unpredictable situations. At the same time, it gives us a sense of being connected to the daily life of those of us who continue to live in unpredictable situations.
Nozomi TOJINBARA at Takeda Art Co., Booth No. H12
Nozomi Tojinbara graduated from Kyoto City University of Arts, a well-known art university in Japan. With her meticulous painting style, she is very fond of the Renaissance and modern pop culture, incorporating elements of the two into her works. She draws other inspiration from Western classical painting, children's literature, and Japanese popular culture. Although these different images, different histories, and various cultural elements, form the image of the painting in her mind, she does not want her imagination to become the established story of the work. She hopes that the presentations in the pictures are just objects that the viewer can associate. The sense of the times, culture and image characters presented in the works are intertwined with the viewer's own memory. She is constantly looking for a story that exists in the modern, public, and continues to explore an unknown 'myth' in this process. Referencing the legend that 'There is a treasure buried under the rainbow', the painting shows the boy setting off to find such treasure – but the rainbow rains down on the cup the boy is holding. Tojinbara added a conclusion to the work: "The treasure under the rainbow is in my heart." (Similar to the story of 'L'Oiseau bleu'.) As a painter, she makes the painting by stories she imagines, but sincerely hopes that when viewers meet her works, they can create their own stories.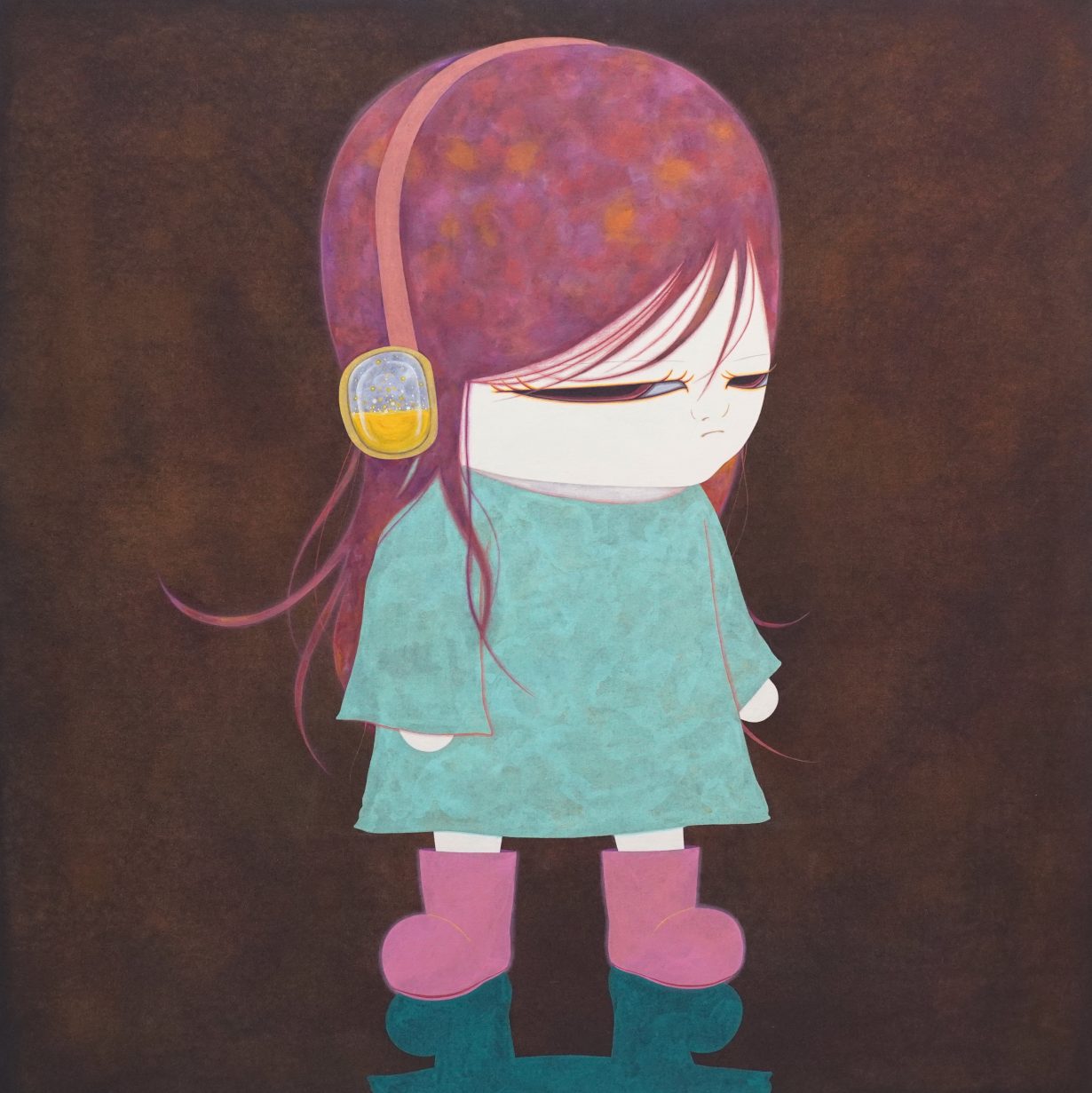 Choongseok HAN at GALLERY WOO, Booth No. A14
Choongseok Han is from Busan, South Korea. Glancing is a key aspect of his work, represented in his characters as an expression of defensive instinct in a relationship. Painting the emotions of his works from his life and experience, the creator unravels his philosophy through the characters of familiar animals: those simple and cute characters somehow look something strange. The animals in the picture glare each other and read their faces, defensively challenging us: 'Don't cross the border'. Our sense of self, formed from the gaze of the other, is at once a fence to protect oneself from the world and also a means of communication in the world. This expansion of the consciousness and the familiar but awkward animal characters in the works are a method to show his philosophy and attitude toward the world of the creator.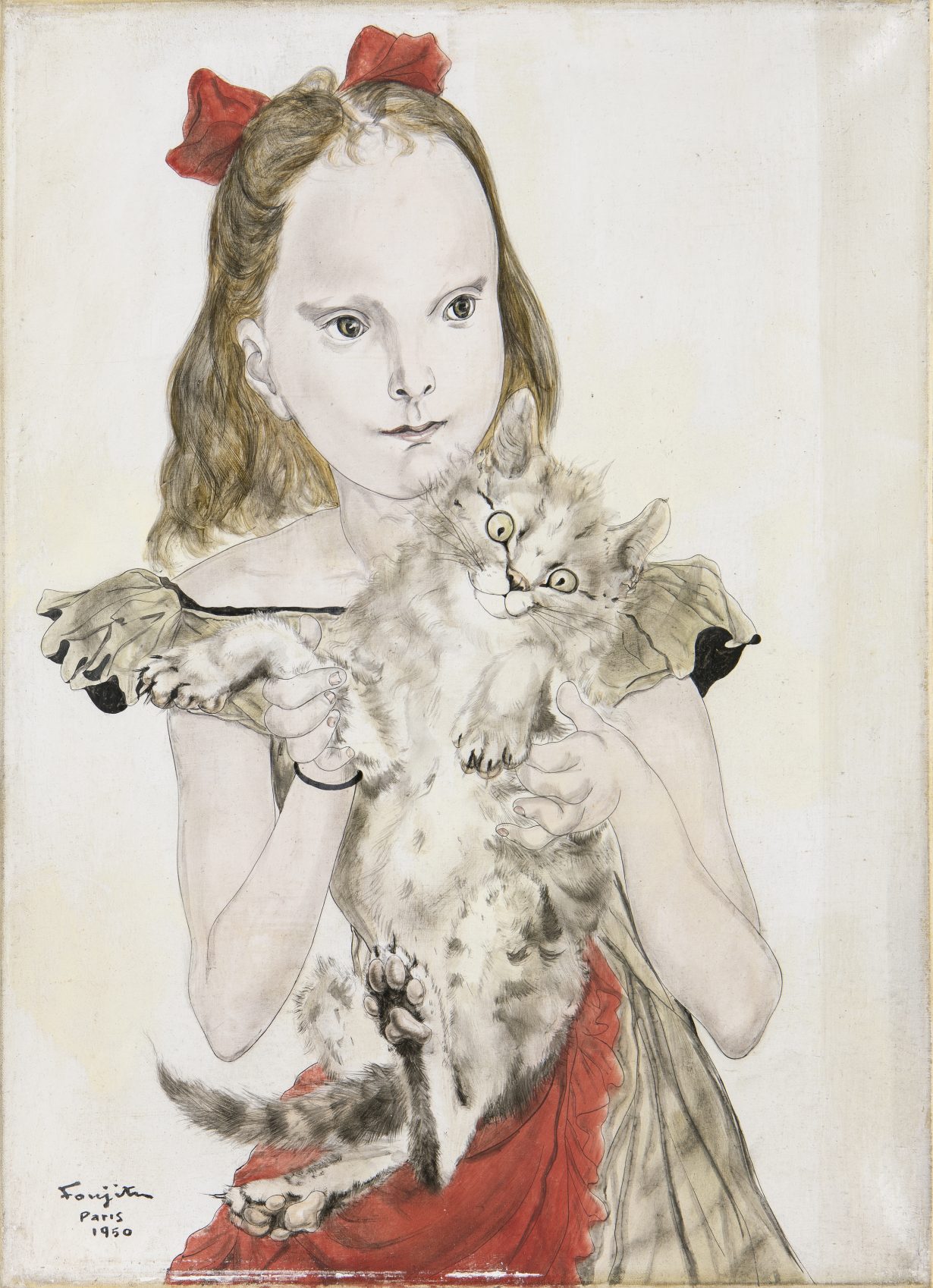 Léonard Tsuguharu Foujita at Galerie Nichido; nca, Booth No. F07
Léonard Tsuguharu Foujita (1886, born in Tokyo, Japan) is a Japanese painter and one of the most famous artists of Ecole de Paris. He often depicts himself, cats, and women in his artworks, which led him to immediate success in Paris. Foujita's artistic universe bridges successfully the East and the West, tradition and modernity. He died on January 29, 1968 in Zürich, Switzerland at the age of 81.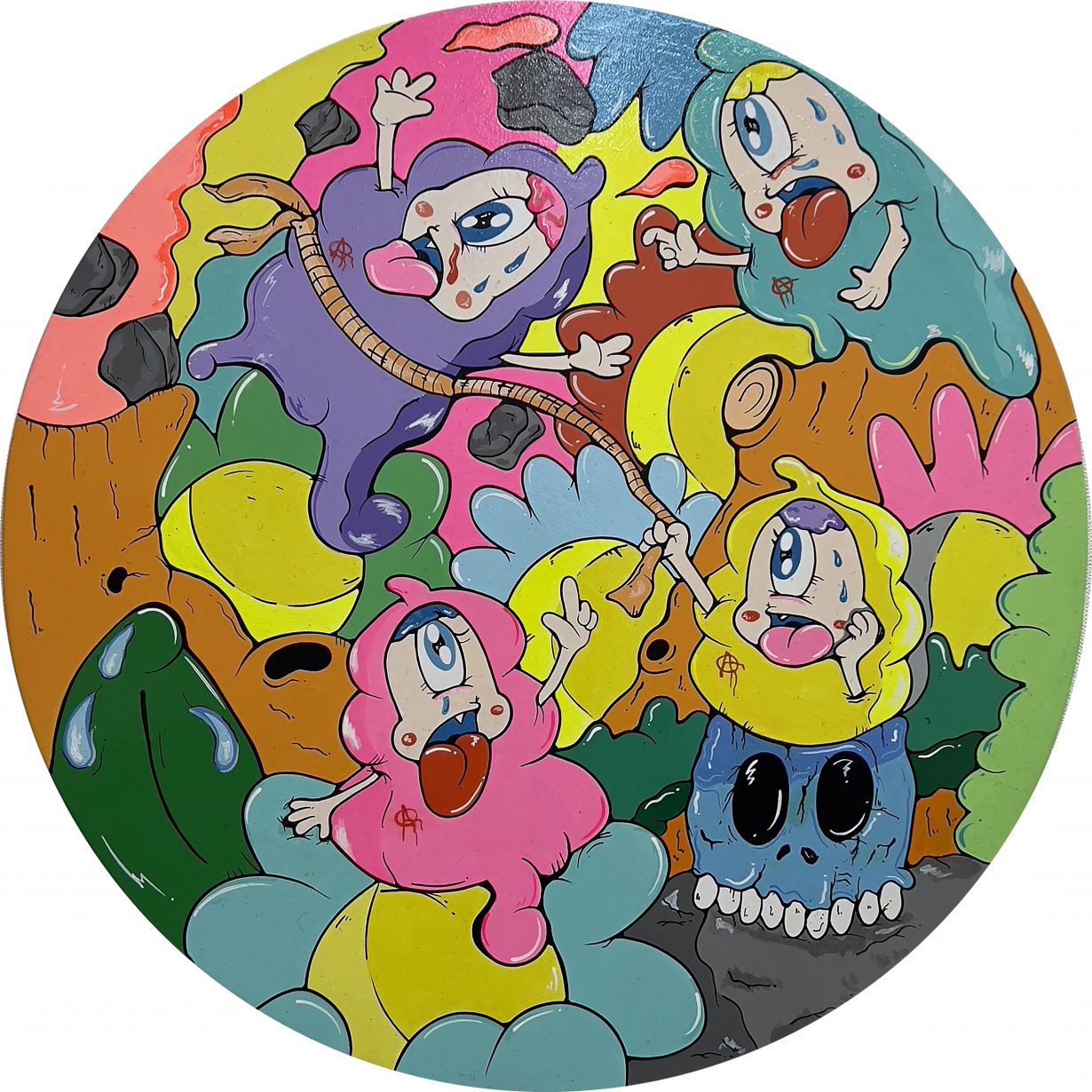 Zoe at Contemporary Tokyo, Booth No. F21
Born in 1985, Zoe is known for outstanding achievements in literature, having published novels in Japan and France in the past. However, he does not wish to reveal his identity as a writer, and so paints under the pseudonym Zoe. The inspiration behind this series of work comes from an imaginary fantasy world of peace and love. The protagonist Chabi with a single eye is trapped and surrounded by chaotic objects and ugly monsters. However, Chabi always manages to breakthrough from the world of darkness, he is full of hope and optimism – such themesZoe wants to depict in his work, despite how cruel both the real and illusory worlds are. Inspired by street art and graffiti techniques, his paintings are full of bold colours, detailed composition and vivid storytelling. When looking at each of the works, it's almost like opening a colourful page of a storybook. They are full of wonderful details, which brings us to Zoe's fantasy world that both inspires and resonates with its viewers.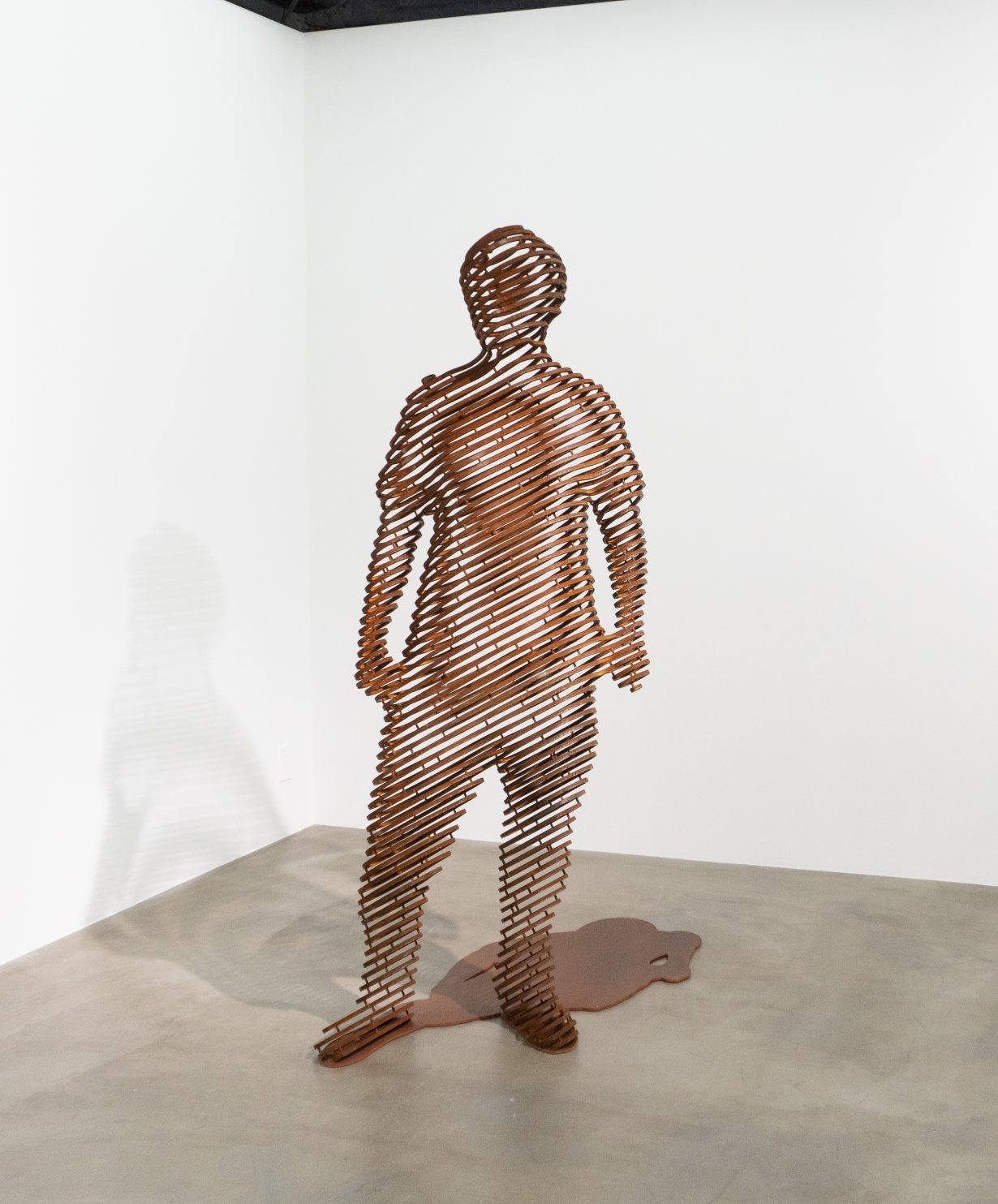 Tomohiro KATO at TEZUKAYAMA GALLERY, Booth No. D06
Born in Tokyo, in 1981, Tomohiro Kato has recently been working on a series named 'anonymous' in which Kato scans the people who have criminal history or weapons with 3D scanners to form a complicated iron structure that has the burly and strong mood of iron and visual effects caused by this unique structure. Kato is also working on a series called 'iron oxide painting' in which he uses original paint with crushed oxide iron. Kato's work's purpose is to search for the borders that exist in many ways in society that take iron as a material.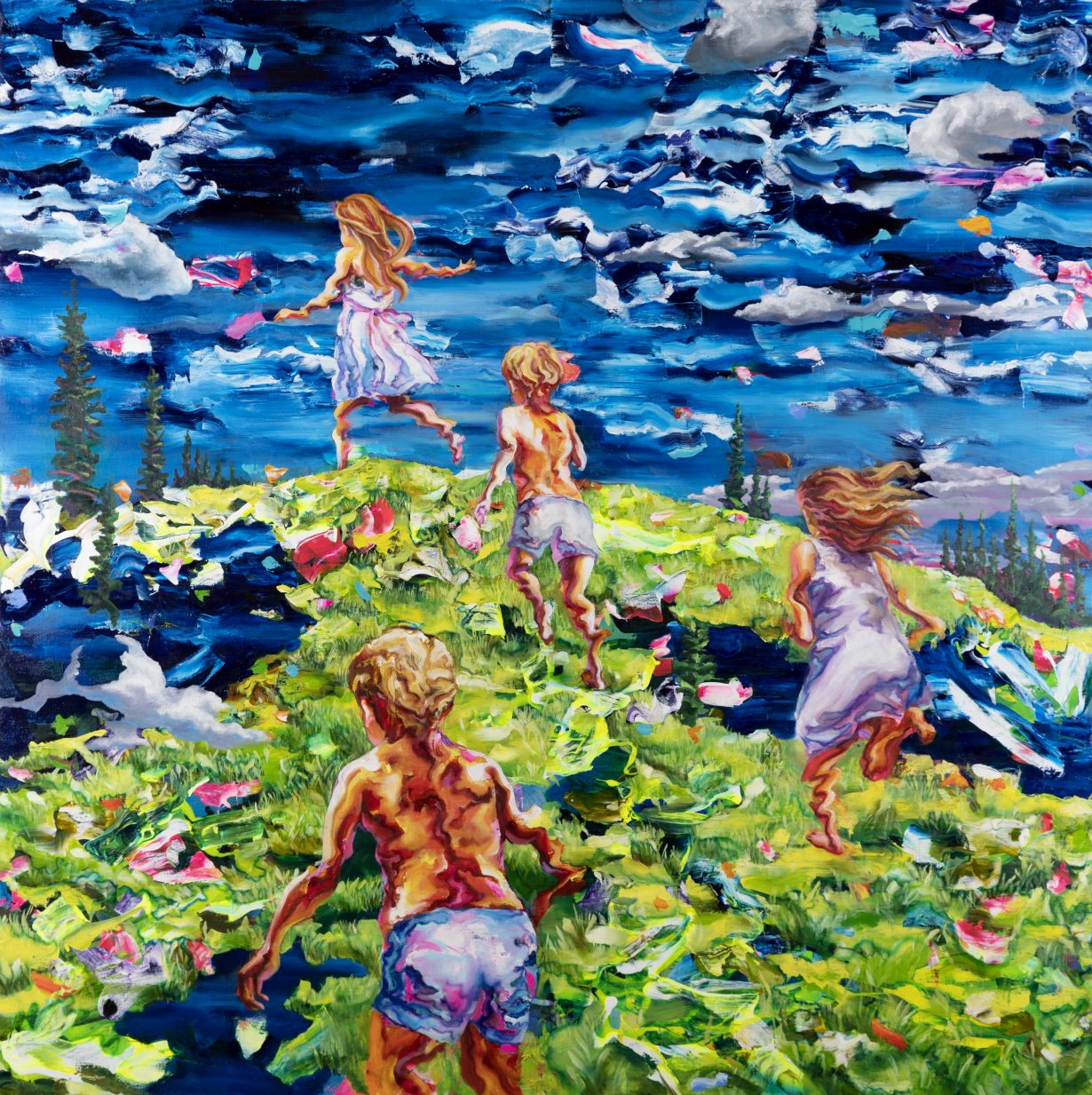 Azumi NAITO at Gallery Tsubaki, Booth No. F23
Azumi Naito's works include trans avant-garde style in high art and figurative paintings in neoexpressionism; he gets inspirations from low art contexts such as disk jackets, flyers, and street activities. To render these two elements together, he uses a combination of traditional oil painting and street painting methods using spray and magic markers.
Like Debasement in Surrealism, the subject is arranged in an extraordinary and dynamic way as an object. For example, in his work, house objects such as tables and sofas can be placed in annoying places such as pastures and foreshore. These compositions create a vague sense of space. In recent years, he has been continuously updating expressions using drawing methods to show physicality. Here, the sky in the background is reflected in the grasslands where children run, the paint making the work feel alive and following the joy and imagination of the children – and the viewer – as to where they might be headed.