Featuring Jeffrey Gibson and Tyler Mitchell; interviews with ruangrupa and Noam Chomsky; essays on performance art, experimental film, and existential external data storage; reviews from Warsaw to New York; and much more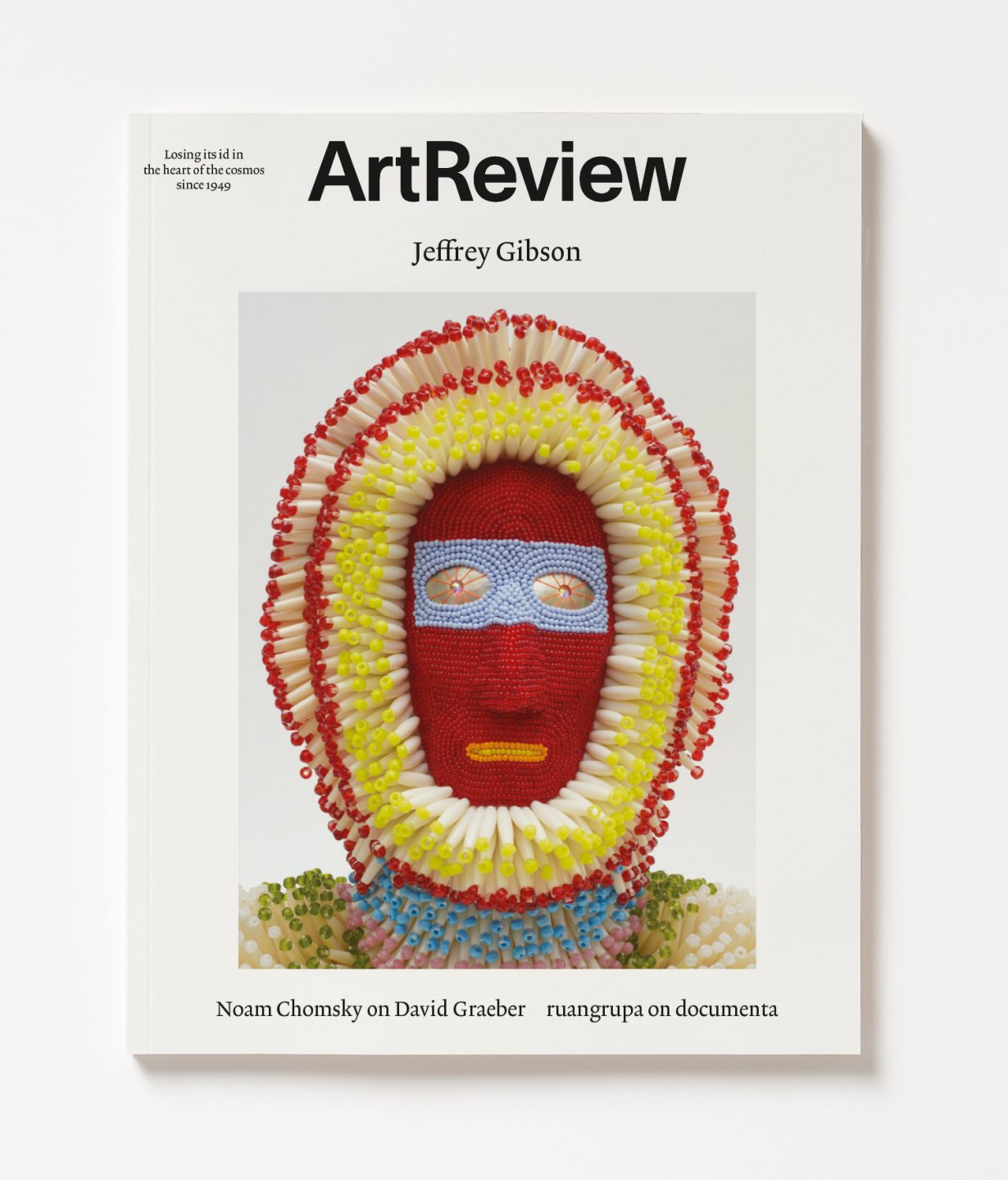 In ArtReview's October issue – out now – Chris Fite-Wassilak profiles Jeffrey Gibson, the artist whose works unpick and repattern mythologies around the depiction of native cultures: 'Dolled up in intricate beadwork and bright kitsch plumes, Gibson's flamboyant artefacts mock the anthropological impulse, while buzzingly suggesting new rituals'.
Renewal can be a fraught process, as ruangrupa found at this year's documenta fifteen. ArtReview's Mark Rappolt and J.J. Charlesworth spoke to the collective's farid rakun and Ade Darmawan about their hopes for and the results of ruangrupa's artistic direction of documenta fifteen – and what happens next. Their work confounded many assumptions about how this major survey exhibition should be organised – and who and what it should be for. One thing was certain: they "had to fight for every inch".
It's a story that has dominated recent cultural discourse – and is touched on by Noam Chomsky, interviewed by Nika Dubrovsky for ArtReview October. Chomsky, a keen admirer of David Graeber's work, discusses with Dubrovsky the late anthropologist's last project, neoliberalism and democracy, Western empiricism and imperialism, free speech, Roe v. Wade, and the war in Ukraine.
Also in this issue
Fi Churchman explores reconciliation and resistance in the photographs of Tyler Mitchell, an artist 'reaching for a way to visually articulate a different kind of double-consciousness'; Mariacarla Molè argues the place for performance art in this doomed world; Ross Simonini interviews Giulia Cenci, creator of 'sculptural beings struggling into and out of life'; Cat Kron recounts a summer of art in Scandinavia; Ren Scatani takes on the increasingly experimental body of Sylvia Schedelbauer's filmwork; and Venus Lau asks if the rise of external data storage signals the end of the human being as understood today.
Plus
Reviews from our critics around the world: including Aichi Triennale 2022; The Dark Arts at Museum of Modern Art, Warsaw; Bill Lynch at CCA, Brighton; Mary Kelly at Vielmetter, Los Angeles; Black Melancholia at CCS Bard, New York; Desmanchar, Desfaz at Quadra, São Paulo; not to mention reviews of books by Stephanie LaCava, Mahasweta Devi, Kamila Shamsie, and much more.