Selected by Martin Herbert
If Esteban Jefferson's paintings appear unfinished, that's because the processes they address are unfinished. If they work to make people and things seen, it's because they weren't seen before. The New York-born artist's current show at his hometown's 303 Gallery, for example, titled May 25, 2020 in reference to the murder of George Floyd by a Minneapolis police officer, features canvases in which objects and locations of subsequent protest – such as defaced colonial monuments – swim into vivid focus and colour out of a pale and misty surrounding urban landscape. Jefferson's earlier body of work, Petit Palais (2019–21), which gave him a breakthrough show at White Columns in 2019, the year he graduated from Columbia University's MFA programme, also strategized to create conditions of visibility, albeit differently. In a fleet-footed decolonial reversal, busts of Africans in the eponymous Paris museum (sloppily attributed, with no subjects named, Jefferson discovered, and habitually ignored by visitors) are rescued from racialised erasure. While the white museumgoers around them – often attentive only to their smartphones – are made to fade like spectres, the statues are attentively painted, animated with strong and searching facial expressions to deliver a form of Black portraiture that restores the dead and diminished to life and dignity. In the videos that accompany his shows, Jefferson trades his paintings' composure and coiled anger for something more openly anxious: a short two-screen film component of Petit Palais finds him training his video camera on the statues – while everyone else ignores them – and rifling through a museum booklet, looking in vain for names. Such works, like his paintings, have a honed and urgent legibility that aligns with his art's rhetorical drive: if you missed what's going on here before, Jefferson suggests, you can't miss it now.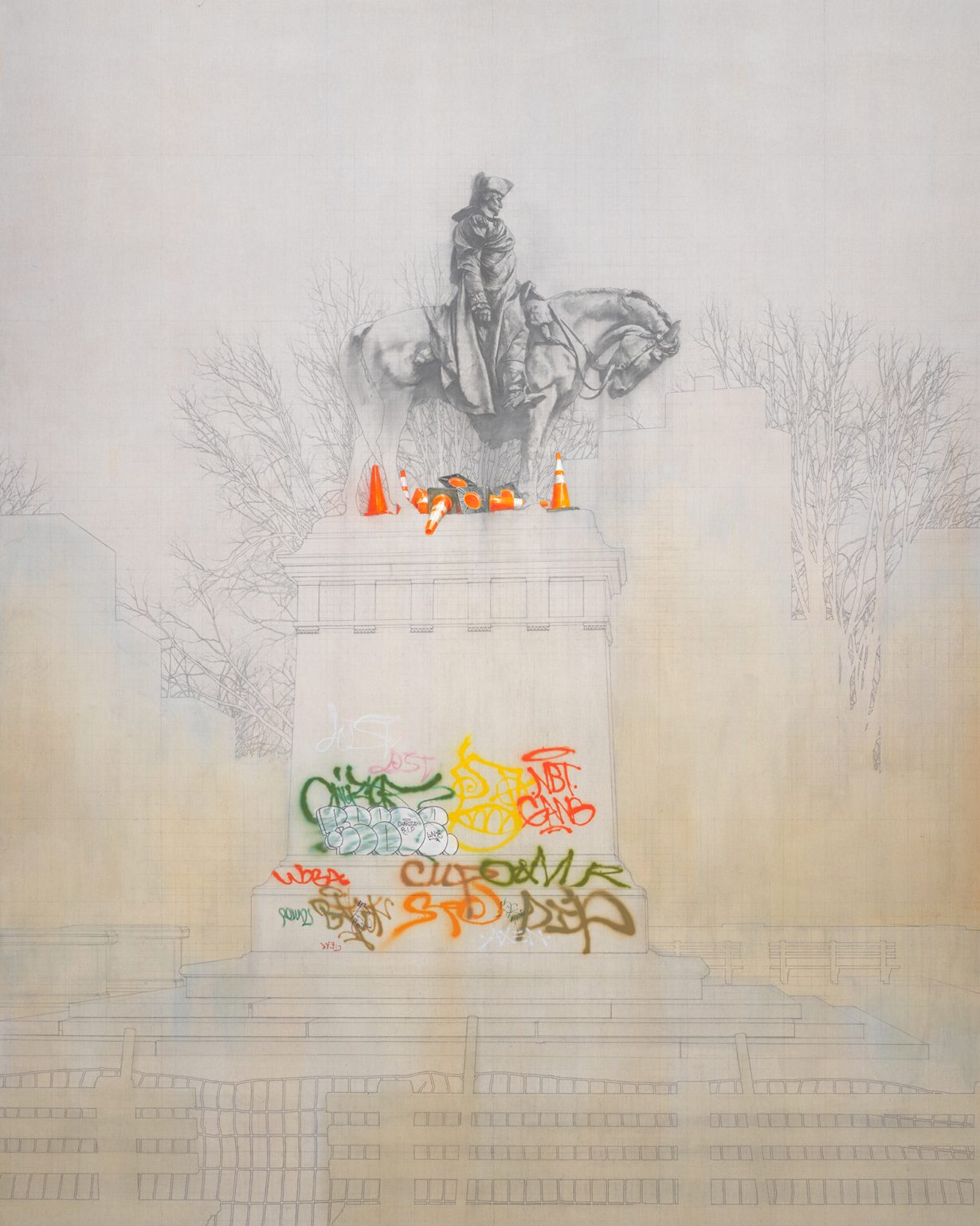 Esteban Jefferson's solo exhibition May 25, 2020 is currently on view at 303 Gallery, New York. His work has also been included in recent group exhibitions ESTAMOS BIEN: La Trienal (2021, El Museo del Barrio, New York), Open Call (2021, The Shed, New York) and Art on the Grid (2020, Public Art Fund, New York), and was presented in Petit Palais, a solo exhibition at White Columns, New York, in 2019. Jefferson lives and works in New York.
Martin Herbert is associate editor of ArtReview.