Two exhibitions in Hong Kong – by Law Yuk Mui and Leung Chi Wo – give contemporary views on histories, violence and place
In 1963 Hong Kong endured its driest year on record. Extending existing policies based on endemic shortages, tap water was rationed to four hours every fourth day at the peak of the crisis. Eventually, the colonial government struck a deal to extend an ongoing trade in water with Guangdong, but not before it considered ferrying water from Japan. This was the Cold War, after all, and Hong Kong's dependence on China for water was – and is – an important political tool. That some Hongkongers took matters into their own hands at the time is something to which Law Yuk Mui's most recent exhibition refers: Take me to the River, Draw me a Star is anchored to a rainmaking ritual performed on 2 June 1963 by Sheung Shui villagers on Wa Shan, next to the Ng Tung River.
Divided into three sections, Law's show portrays elements of that ritual at one end of the gallery titled '1963'. There, the three-channel looped video Bugang Tadou (2023) comprises a vertical green-screen leaning against one wall emitting ambient sounds of a hike to Wa Shan, next to a reedited cut of Law's two-channel video Rainmaking (2021). One vertical display shows a rotating 3D animation of a stone altar, while a horizontal monitor depicts a figure arranging pebbles on the floor – a reference to 'Bu Gang Ta Dou' or 'Pacing the Big Dipper', in which the seven brightest stars within Ursa Major guide the footwork of Daoist rituals. That celestial framing extends to the show's middle section, titled '1963/2023' after the fact that these are both Water Rabbit years, hence the two ink and gold-leaf on paper star-charts on view, based on the longitude and latitude of Wa Shan at 2pm on 2 June 1963 and 2023 respectively. Props for a performance are arranged in the area, with a video showing Law hammering holes into a circular black tarp that's raised at one end so that light projects constellations onto the floor through its punctures. Star Score (2023) extends this astral cartography: holes punched into a black-card scroll laid on two music stands mimic, according to exhibition materials, formations of the eighth-century Dunhuang Star Chart.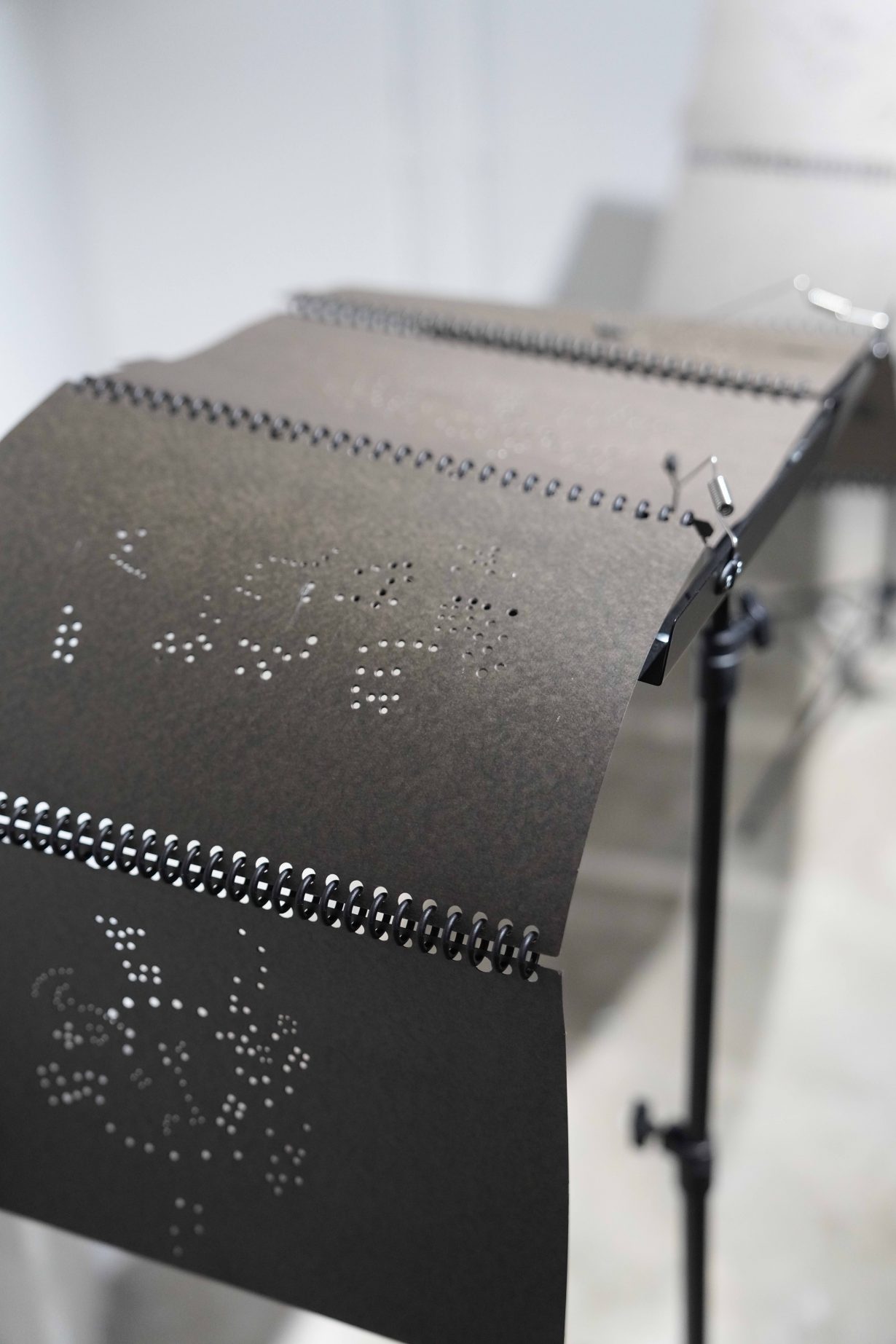 These references to astronomy, divination and navigation seep into the show's simultaneous introduction and conclusion at the gallery's entrance, titled '2023' yet featuring hand-drawn copies of world maps from 1888, 1898 and 1901. With no guiding information, working out each year's significance starts with 1898, when the Qing government signed a 99-year lease granting the British control of Hong Kong's New Territories. In protest, local clans fought a six-day war, highlighting the lease's connection to the unequal treaties that defined Hong Kong's colonisation. This theme of unequal treaties continues in 1888 with the Sino-US Bayard-Zhang Treaty, prohibiting Chinese migration and the right of return of Chinese living in the US for 20 years, and the 1901 Boxer Protocol, which forced the Qing to submit to an international assault against the Boxer Rebellion's failed attempt at expelling colonialists and missionaries from China.
Presenting these dates without accompanying details speaks to the overlooked geopolitical enmeshments that have shaped Hong Kong and China for centuries, with star maps functioning as allegorical diagrams that invite the kind of wayfinding approach required to discern the spectres of history today. That act of connecting historical dots extends to Leung Chi Wo's exhibition at Blindspot Gallery, whose title, Past-Future Tense, invokes the tensions charging Hong Kong's present, sandwiched between a contentious history and an equally contentious future. Extending Law's historical constellations, Past-Future Tense departs from Margaret Thatcher's visit to China in 1982, which led to the signing of the Sino-British Joint Declaration in 1984. The declaration terminated the 1898 lease and confirmed the terms of Hong Kong's handover, some of which appear in Leung's Gather the Tears (2023). Craft knives composing a crown adorned with glass beads stab the open pages of Thatcher's memoir, poised on a stand, with Hong Kong related text from the book cut into strips to form dangling paper trails. One line mentions the 'One Country Two Systems' policy that the National Security Law effectively ended prematurely in 2020.
With two photos printed on canvas that zoom in on Thatcher's pen-wielding hand, Past-Future Tense highlights the insidious violence that charges those geopolitical agreements that seal a people's fate once signed into reality, like events dictated by the heavens. This comes across in One Day Too Early (2021), a multimedia installation departing from a 1970 news story about the stabbing of a journalist by gangsters, which includes a photo of Hong Kong pierced with a fountain pen with black ink bleeding down the image.
Here, the acts of stabbing people and signing become loosely aligned, with Date Series (2017–) probing those links in a project that began when Leung started photographing the sky from sites where protesters planted bombs during Hong Kong's 1967 riots. Preceded by demonstrations against fare hikes on the Star Ferry, which prompted a government inquiry into the social and economic grievances of Hong Kong people, the 1967 riots began when a labour dispute escalated into a communist-leaning rebellion against colonial rule, fuelled by China's Cultural Revolution and anticolonial protests in nearby Macau. Presented in two rows, black-and-white photos focus on the cloudy and cloudless textures of different skies, each titled with the date of an event (such as the first Festival of Hong Kong in 1969) that occurred between 1967 and 1972. The single-channel video My Random Diary (2020) reveals where each photo was taken. One image is connected to a bomb that injured a lift serviceman at the former Hilton on 22 August 1967, two days after a blast in North Point killed two children, which apparently turned the public against the movement.
Sites of violence beyond 1967 are also named in My Random Diary, creating a timeline of people attacking people that continues to 1972 in the video My Random Diary 0 (2023). Subtitles describe crimes of passion and theft, mostly perpetrated with knives, which recall the connection that One Day Too Early makes between officials signing legal documents and civilians stabbing each other. That link expanded just after Law's and Leung's shows both opened, when Hong Kong witnessed two murders in succession, including a ferocious and random knife attack by a person with schizophrenia that highlighted a deep-rooted mental-health crisis compounded by socioeconomic disparities and exacerbated by years of Zero-COVID policies. Because when decisions related to people's autonomy are made from above, it's those on the ground who have to make sense out of their scattered effects.
Law Yuk Mui: Take me to the River, Draw me a Star (The Year 1963) at Tomorrow Maybe, Hong Kong, 3 June – 2 July
Leung Chi Wo: Past-Future Tense at Blindspot Gallery, Hong Kong, 23 May – 8 July