GORGON at HAU Hebbel am Ufer (HAU2), Berlin attempts to modernise the titular mythological creature's creation myth in AI projections
In her hourlong 'flute opera', GORGON, Marianna Simnett simultaneously treads new and familiar ground. While it's the Berlin-based artist's first staged work, GORGON's concern with Greek mythologies extends the associations between femininity and monstrosity in her multimedia 2022 exhibition OGRESS at Berlin's Société.
Simnett, a musician and trained flautist, was unsurprisingly keen to explore live performance. Yet as she attempts to modernise the titular mythological creature's creation myth – the goddess Athena created not only the first flute but also the first Gorgon, later attempting to harness the sonic power of her destructive lamentations – it becomes clear that Simnett has bitten off more than she can chew.
Told by eight actors and musicians via video and AI projections, music and movement, her reimagining endeavours, the programme says, to tell a 'contemporary fairy tale' of Greta, a doughnut-stand employee who fantasises about becoming a 'corporate queen'. In an extended dream sequence, she dons a sharp pink suit to become the businesswoman of her fantasies. Power-hungry, she sends her intern, Hans, into the forest to capture the Gorgon's harrowing cry. When Hans fails to return, Greta plunges into the forest herself, meeting various creatures: a girl stuck in a dog's body, various female-owl, butterfly and bee hybrids, the Gorgon herself.
Many of GORGON's creatures are AI-generated and projected. These digital characters are touted as 'innovative' by commissioners LAS Art Foundation; but when people can easily find convincing deepfakes and generate AI images online, their jerky facial expressions and mouth movements, unaligned with the voiceovers, feel far from groundbreaking. Meanwhile, the poetic, at times nonsensical, operatically delivered lyrics – "cockroach, cacao, vaginal thrush", etc – make Simnett's surreal plotline also nigh on indecipherable, its narrative dependent on an accompanying 24-page booklet. This frequently references influences – poet/classicist Anne Carson's essay 'The Gender of Sound' (1994), for example – and feels primarily like proof of research. When I seek clarity on the final scene, in which Greta becomes 'enmeshed' with the Gorgon – perhaps a nod to female collaboration being more powerful than competition, or a demonstration of how humans are increasingly entangled with our digital counterparts – I'm met with Donna Haraway discussing the Chthulucene. Didactic explanations of the work, meanwhile, leave little room for personal interpretations.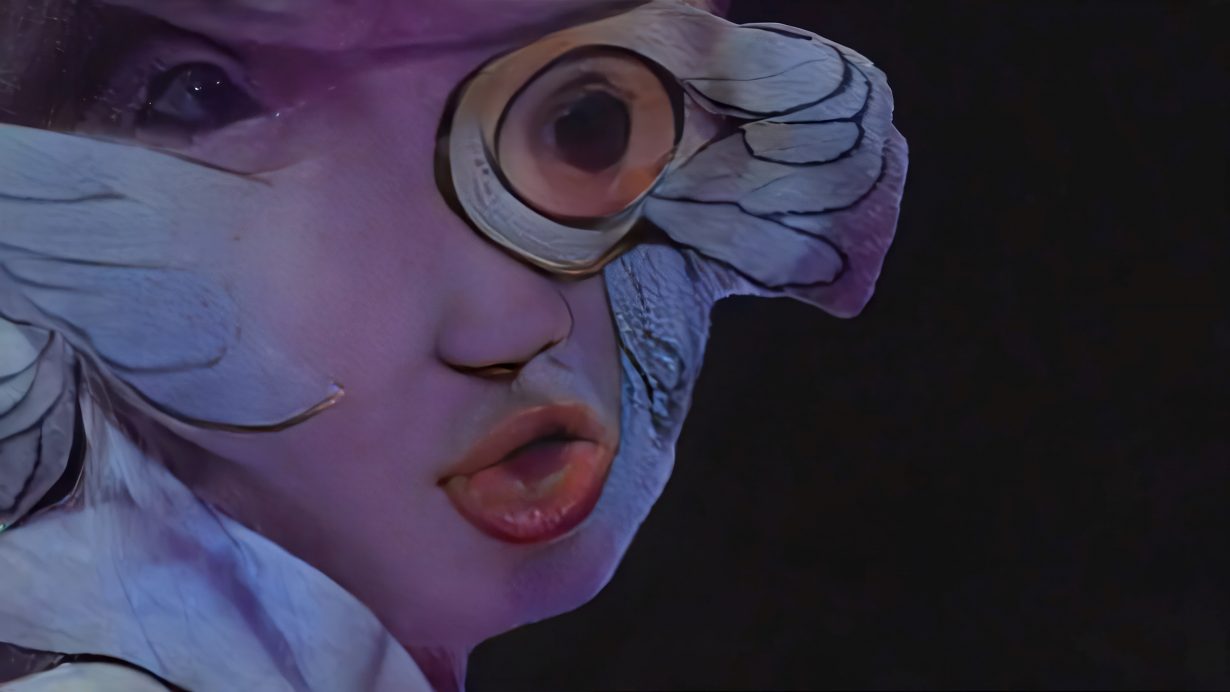 All of this distracts from what should have been GORGON's star: its score. As onstage flautists blow aggressively throughout, their playing is transformed via generative neural network into unsettling AI-modified sounds akin to intensely whistling kettles or steam engines. It's unlike any noise I've ever heard from the stereotypically feminine flute; when I close my eyes and listen, multiple musings arise about the perceived dichotomy between femininity and power, as well as the jarring comments so many women hear about their 'shrill', overly 'emotional' tones during arguments.
While one may question why Greta would want to possess such a derided sound – not only in contemporary society, but in mythology too, as Athena discarded her original flute due to other gods mocking her puffed-out cheeks – perhaps she realises the mockery is a fear-motivated method of control. The patriarchy has long resorted to unfair tactics to put powerful intelligent women 'back in their place'. This derision obscures the fact that women's 'undesirability' is most often a direct result of male action – Medusa was turned into a monster by Athena as punishment for being raped by Poseidon. It's amazing that Simnett can conjure these discussions and associations merely through an AI-augmented flute score. A pity that other aspects of the show, bogged down by an overly complex narrative, do little to elevate them.
GORGON at HAU Hebbel am Ufer (HAU2), Berlin, 13–17 September