Although The National announces itself as a presentation of 'provocative, political and poetic' new Australian art, the works on display appear almost outside of, or at the very least detached from, our contemporary moment
Presented across three institutions in Sydney – the Art Gallery of New South Wales (AGNSW), Carriageworks and the Museum of Contemporary Art Australia (MCA) – The National 2021: New Australian Art is the third instalment in a biennial series of survey exhibitions that bring together artists with diverse practices and cultural backgrounds, who live in urban, regional and remote communities.
In contrast to the Sydney Biennale, which is coordinated by an umbrella organisation, with a single, overarching theme, The National's three exhibitions each have their own curatorial team: Matt Cox and Erin Vink (AGNSW), Abigail Moncrieff (Carriageworks) and Rachel Kent (MCA). Such an arrangement means that artists are given differing levels of support depending on which institution they are affiliated with, even if all 39 artists are ostensibly part of the same exhibition.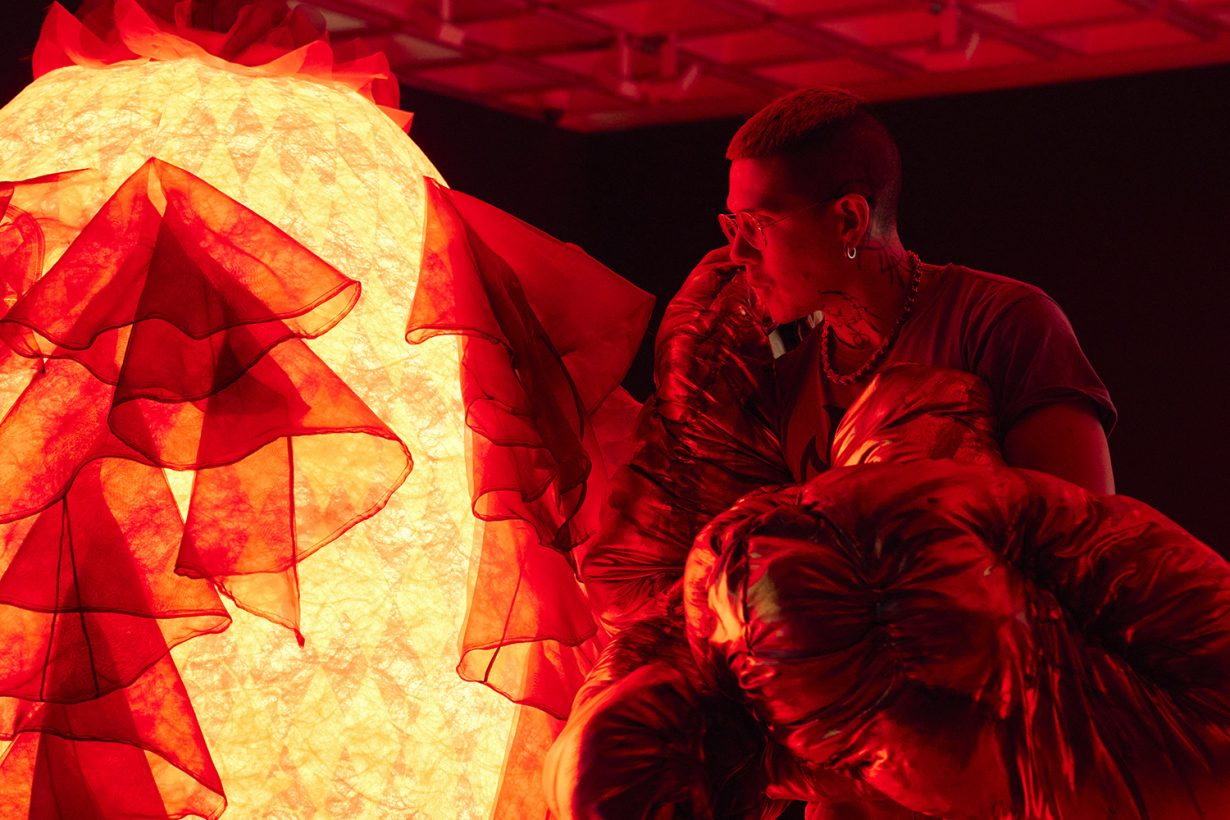 In light of this, viewing The National 2021 as a whole is a difficult task. Its premise is both too broad (a 'showcase' of Australian contemporary art) and too specific (curators must be mindful to present a balanced and fair selection of work). Each exhibition appears separate from the others, inviting the inevitable question as to which is the most curatorially successful of the three. The National 2021, as with previous iterations, suffers in part because of this framework.
If there is a unifying thread to be found across the institutions, it is that of a heightened sensitivity to the environment, natural processes and the contested history of place. Cameron Robbins's OENOGRAF (2020–21), at MCA, consists of a handcrafted drawing instrument powered by the carbon dioxide emissions of fermented grapes, while Wona Bae and Charlie Lawler's Regenerator (2021) includes a series of circular charcoal forms suspended in the foyer of AGNSW. Sancintya Mohini Simpson's videowork Dhūwã ̄ (2020), shown at MCA, culminates in a sugarcane field going up in flames, a dual reference to the legacy of Indian indentured labour and the capacity for fire to heal and destroy.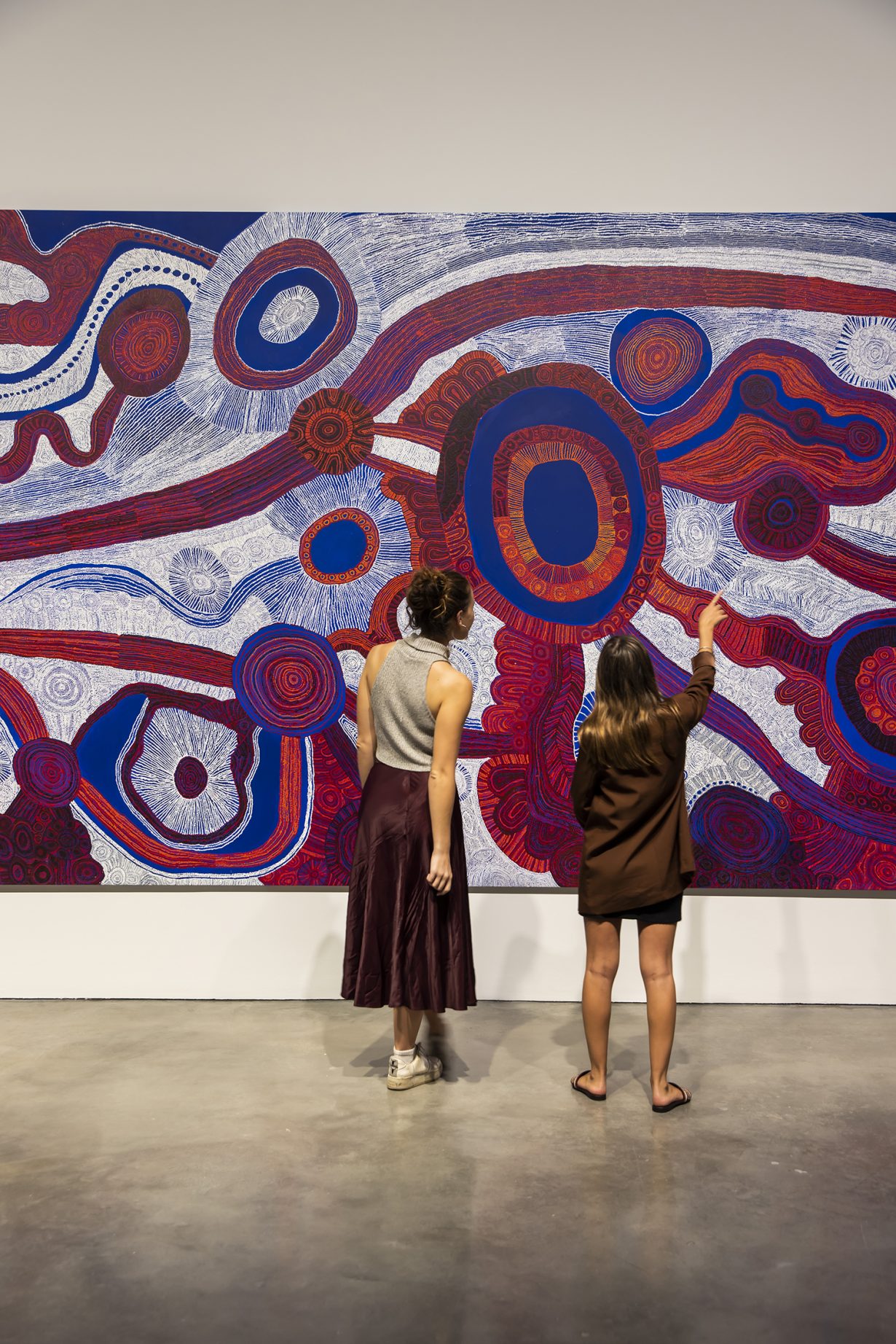 Yet, although The National announces itself as a presentation of 'provocative, political and poetic' new Australian art, the works on display appear almost outside of, or at the very least detached from, our contemporary moment. Despite the many interconnected national crises of the past 18 months – ecological distress, domestic violence, refugee detention, war crimes, Indigenous deaths in custody (for which nobody has been held accountable), far-right violence and the global pandemic – such concerns occupy the periphery rather than the centre of the exhibition. This is not to suggest that the works should be overtly political or obvious in their aims, but what is missing is a lack of tension, or agitation, or a desire to transfix and arrest the viewer (whether via anger, silence or invocation). What is missing is momentum.
To be fair, part of the reason for this absence is to do with the curating. In choosing to draw attention to 'planetary caretaking' (MCA), 'fragile natural and social ecosystems' (AGNSW) or 'sociality' (Carriageworks), the tone of many of the works is elegiac – a memorial for what we have lost, rather than the necessary recasting of our future. This is especially evident in the artworks concerned with environmental collapse, as the danger in lamenting the 'natural world' is that it often morphs into a resigned, rather than active, position.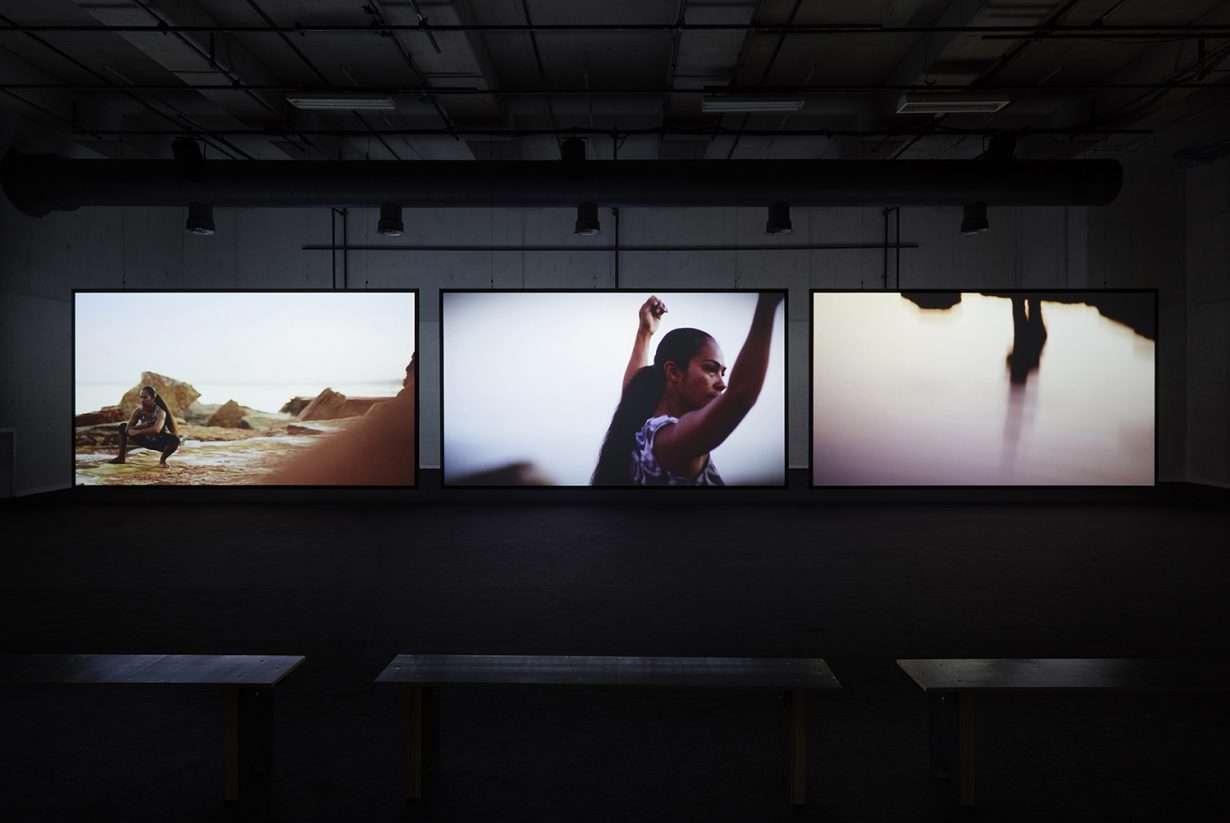 The rejoinder to this is that there is a work in The National bristling with its own tightly coiled energy. Vernon Ah Kee and Dalisa Pigram's Gudirr Gudirr (2021) is a three-channel collaborative videowork, first performed as a solo piece with Marrugeku (an intercultural dance company) and subsequently shot on location in Broome, Western Australia. In one scene, teenagers battle in the dirt, wrestling and punching as a drumbeat pulses behind them. In the next, Pigram combines traditional Aboriginal movement, silat martial arts and breakdancing into a new dance form, with the glow of headlights sliding past her body. A cascade of text obliterates the image ('FUCK FUCK FUCK FUCK'), and after this incursion, we witness a sunrise and a closeup of ocean pools.
Gudirr Gudirr is an indictment of Australia's colonial history, of its massacres, forced removals and stolen land, but it is also a work filled with great care, remembrance, joy, beauty and pride. These twin narratives overlap and interweave; there is tension and its counterpoint – stasis and movement – all at once. You could say that Ah Kee and Pigram are able to distil into one film what The National is attempting to do across three institutions. It's a reminder that volume and scale do not necessarily equate with potency – sometimes all that is required is a single artwork, in a single room.
Art Gallery of New South Wales, Sydney, 26 March – 5 September
Carriageworks, Sydney, 26 March – 20 June
Museum of Contemporary Art Australia, Sydney, 26 March – 22 August