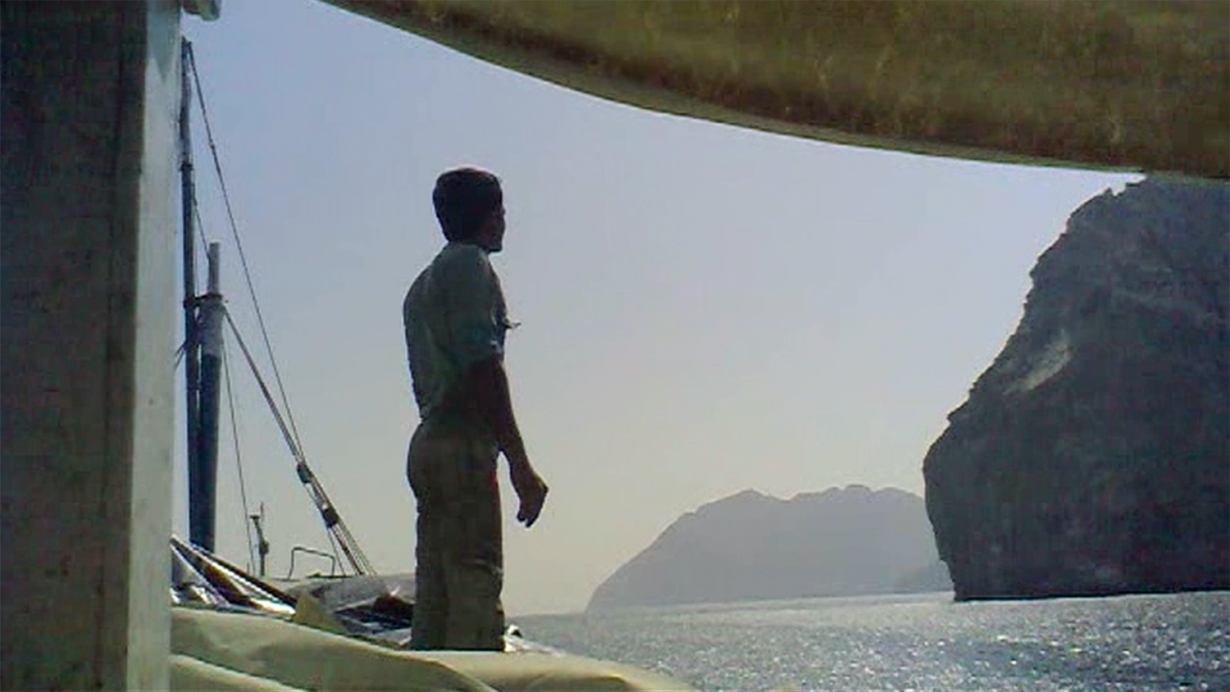 To mark the opening of M+, Hong Kong's new museum of visual culture, ArtReview will select highlights from the museum's collection as part of its 'Work of the Week' series. Stay tuned for a weekly focus on the background story of a single work and the network of associations it conjures
For millennia, the global sea trade has played a critical role in shaping matters on land: from language, borders and culture to political warfare, empire building and the personal ambitions of rulers who presided over vast territories. But as is the way with most histories, it's the captains who get remembered while the thousands of ordinary sailors or crewmembers who made their feats of navigation, exploration and colonialisation possible are forgotten.
It is precisely these types of anonymous, ordinary men who are at the centre of Mumbai-based studio CAMP's feature-length documentary film From Gulf to Gulf to Gulf (2013). In it, the audience follows several seafarers (via the footage they themselves have shot on mobile-phone cameras) from the Gulf of Kutch in Gujarat, northwest India (and their cosailors from Pakistan and Iran), on their journeys to different ports across the Indian Ocean, to Sharjah and further on to Somalia.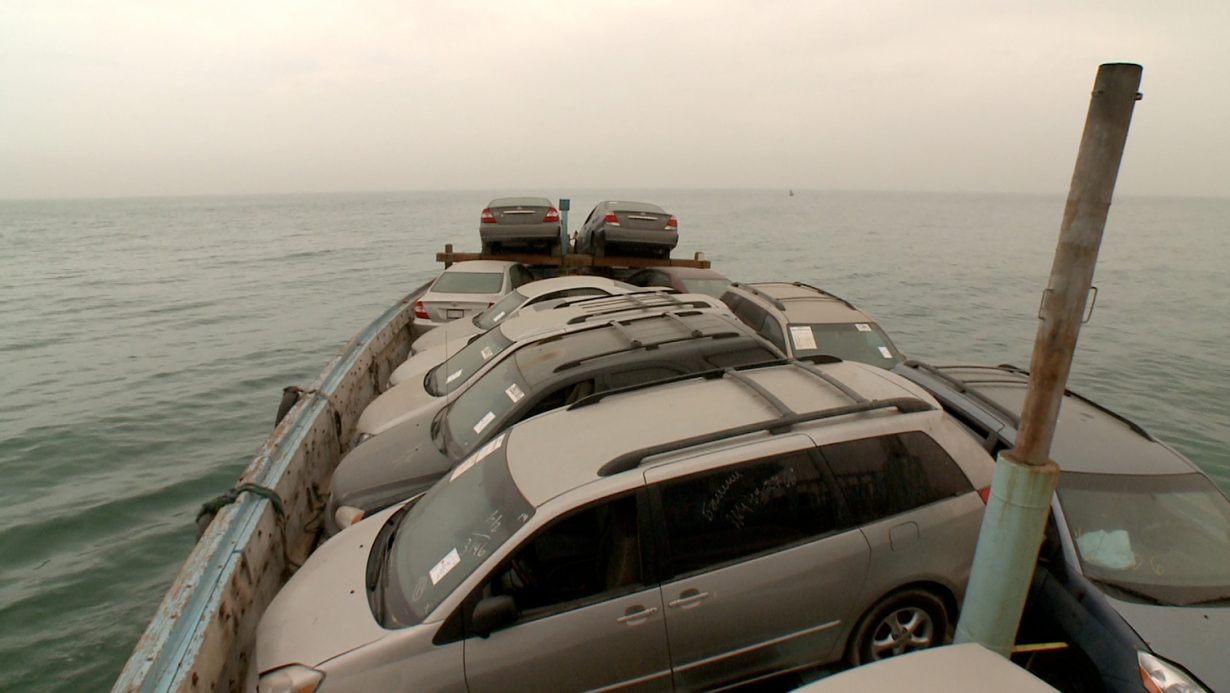 The film is a result of four years of exchange and dialogue between the members of CAMP, founded in Mumbai in 2007 by Shaina Anand, Ashok Sukumaran and Sanjay Bhangar, and sailors who transport goods for trade (electronics, dried pasta, timber) in commonly used, small-scale vessels such as dhows or urus. The videos, shot by different sailors over a number of years, show footage of the sea, dhows moving along their routes, or vessels on fire at various ports; and more intimate, everyday scenes of the sailors catching fish, prepping for dinner, playing a game of cards, bantering with other boatpeople, resting, daydreaming, whiling away time until the next chore and the next port of call. They capture the physical reality of travel in all its mundane and intriguing details.
If, on the one hand, the work is a collaboration between the artists and the subjects of the documentary (a collaboration that inherently questions the notion of who the 'real' author is in these situations), then, on the other hand, the film itself frequently captures how similarly 'collaborative' moments transpire in the pursuit of travel and trade. Shot mostly on the popular 'music-phones' of the early 2010s – music could be copied to and from these devices and exchanged with other phones over Bluetooth – some of these videos are edited to include songs chosen by the sailors, sung in Urdu or Hindi, Kutchi, Saraiki, Arabic or Farsi, or the language of the port where such music exchanges took place between seafarers.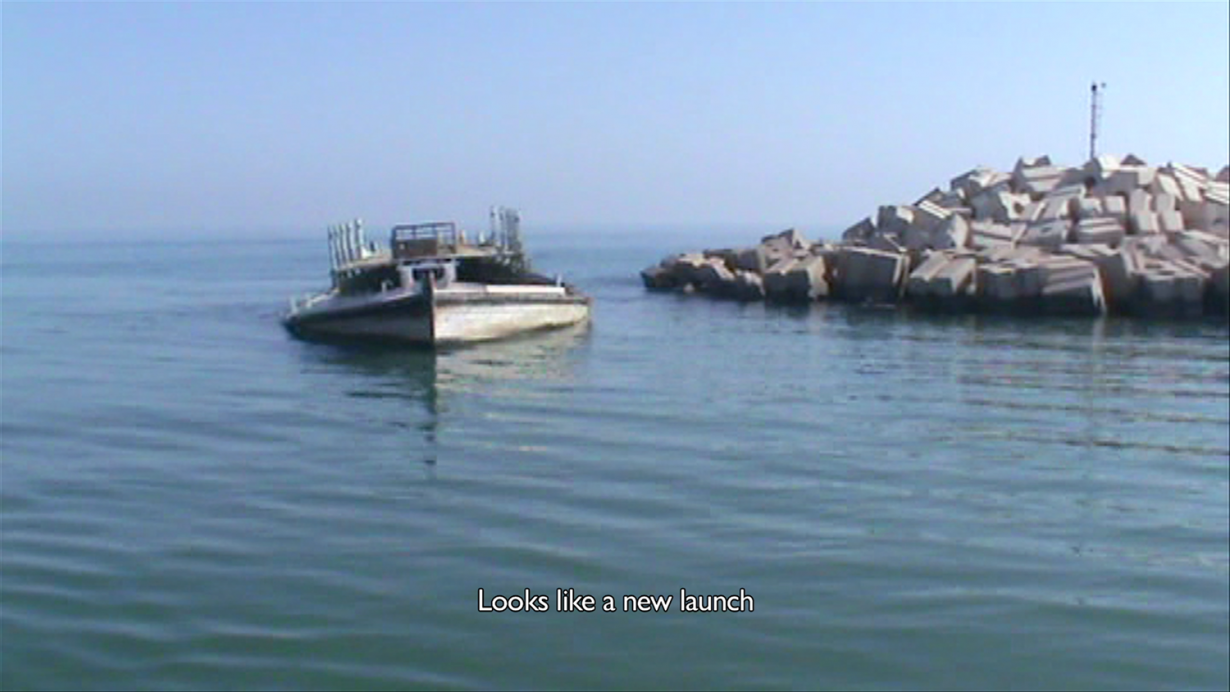 In the background of several of these videos are songs about travel and the separation of lovers, or prayers. Might journeys along these routes have looked just like this – save for the technology and the mechanisation – ever since the monsoon winds blew in the first foreign traders from Arabia to the west coast of India?
Traders from Persia and the Gulf region in West Asia had well-documented trade links with India since at least the first century BCE, travelling mostly to what is now India's 'lost' port of Muziris, or Muchiri (near the present-day towns of Pattanam and Kodungallur in Kerala), to trade primarily in black pepper, then known as 'Black Gold'. These traders would have had exchanges with the local population that included the sharing of languages, food and cultural traditions. One such exchange is explored by historian Sebastian Prange in his book Monsoon Islam – Trade and Faith on the Medieval Malabar Coast (2018). In this, he suggests that seafarers from the Persian Gulf would have introduced Islam to various shores lining these trading routes, and notes that 'the communities that grew out of the settlement of Muslim traders in port cities across maritime Asia have proved long-lasting: every major historic port-of-trade in the Indian Ocean has a Muslim community that in some way traces its history back to these premodern exchanges'.
While CAMP's film makes no direct references to religion, the video credits for the sailors and the names of the vessels – MSV Al Sultan, MSV Faize Sultane Khwaja, MSV Noor e Shabir, etc – might suggest that these men are descendants of the Muslim communities that are the focus of Prange's book.
From Gulf… takes the viewer to ports like Mangrol, Bosaso, Bandar Abbas, Berbera, Aden, Mombasa, Kismayo, Kutch. While we are offered some insight into the seafarers' everyday lives on the boat, it is both a little disappointing and oddly satisfying (in that some sense of mystery is maintained) that we are kept at a distance from the sailors' personal thoughts – except during a brief shot of an evening out at a nightclub at an unnamed port. For those of us who seek more of a personal history, one could turn to KR Sunil's series of black-and-white photographic portraits of old sailors from Kerala, Manchukkar – The Seafarers of Malabar (2018). These portraits are accompanied by extended captions that offer brief and moving accounts of similar seafarers who describe the many dangers that await them on these ancient maritime routes.
While ancient trade links are acknowledged and celebrated as part of India's 'glorious' past in school textbooks, the historical (and continuing) influence of seafarers like those in CAMP's film on the social landscape of the Indian subcontinent is all but absent from the education system. This erasure of Islam's bearing on Indian Ocean trade history conveniently adds to the Hindutva agenda of othering the country's Muslim population. In focusing on these unseen communities of sea-nomads whose labour blurs national borders (presenting a counter to present-day India's chest-thumping nationalism), From Gulf… throws light on the messy, nuanced and entwining nature of oceanic trade.
CAMP's From Gulf to Gulf to Gulf (2013) can be played on demand in the Mediatheque at M+, Hong Kong