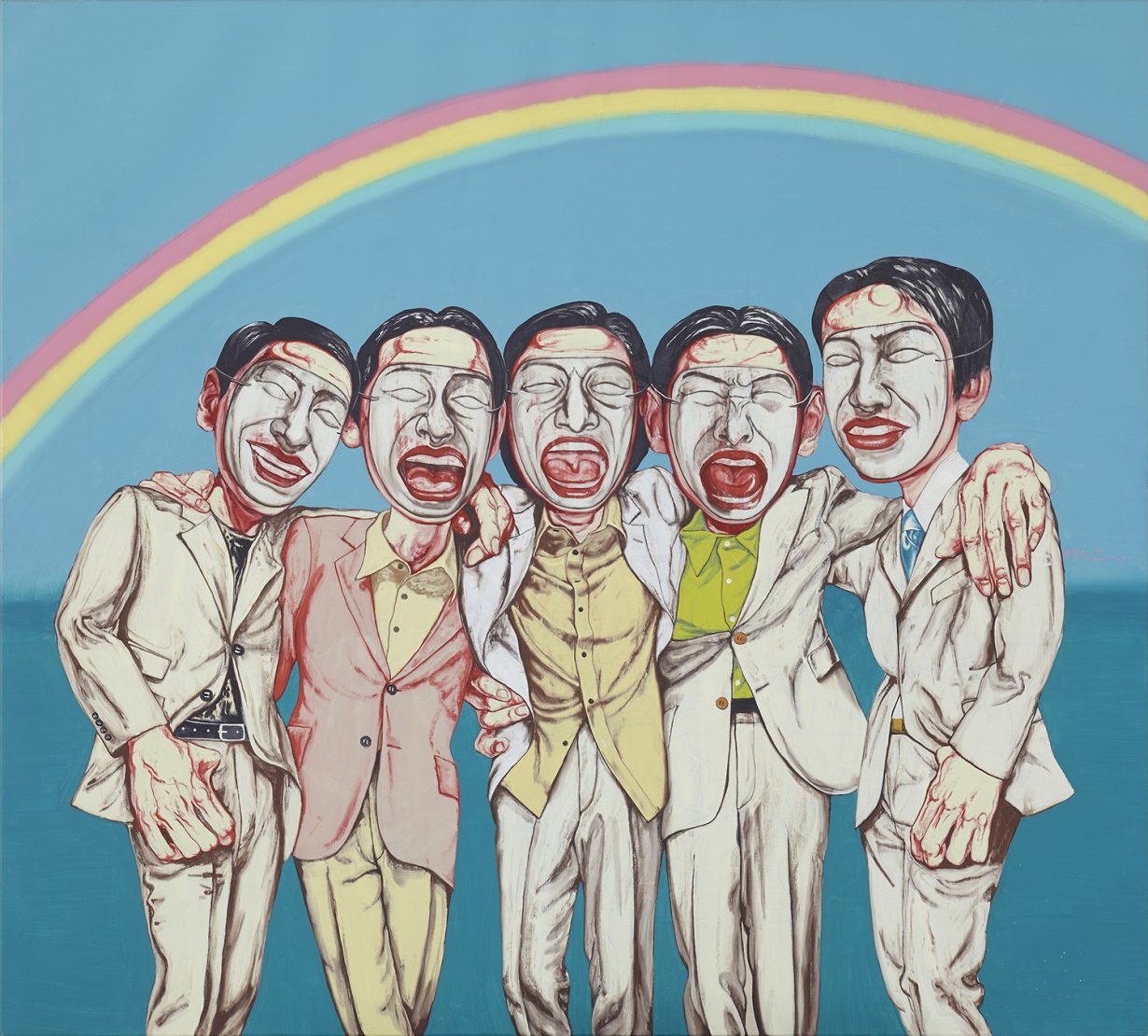 To mark the opening of M+, Hong Kong's new museum of visual culture, ArtReview is selecting highlights from the museum's collection as part of its 'Work of the Week' series. Stay tuned for a weekly focus on the background story of a single work and the network of associations it conjures
For several months, as COVID-19 restrictions around the world gradually loosened, I'd begun to hear a common refrain: that we had returned to the early months of 2020 – a time when you only saw Asians (or specifically Chinese citizens) wearing masks on the streets, before the first cases of the virus were detected outside of China. The irony, however, is that the latest outbreak of the Omicron variant of COVID-19 in Shanghai has shocked the whole city; few people can go out without restrictions. Those who do are frontline workers dealing with endless nucleic acid amplification testing, distinguishable in their white protection suits.
Facemasks today seem to be a medical symbol of the 'new normal' in which we are learning to live with COVID-19. During the 1990s, however, masks referred to a more latent and complicated zeitgeist for artist Zeng Fanzhi, as evidenced by his Mask Series (1994–2004), a collection of paintings in which figures are depicted wearing full-face masks.
In Mask: Rainbow (1997), a group of men wearing masks drape their arms around each other's shoulders in a relaxed manner. In this gesture of friendship and camaraderie, they are five and they are one. Above them arches a rainbow of pink, yellow and blue, which looks a lot like the kind of imagery drawn in chalk to illustrate 'blackboard newspapers'. An early vehicle of socialist propaganda, these blackboards appeared mostly at public establishments such as schools, factories and administrative offices and were used to disseminate updates on policies and encourage approved cultural thinking. The protagonists' bodies, clad in light-coloured business suits, stand out brightly against the two-tone blue background. Looking carefully, however, all does not seem well: cuddling up together, the men's shirts and suit jackets fold and crease in their embrace, revealing the contours of bodies that are way too thin to be proportionate with their heads. Each grey-white face-concealing mask is stuck with a turgid grin and these cling to the mens' faces so perfectly that, if the light pink skin of their forehead and chins were not exposed, viewers might hardly tell a difference between the masks and real human expression. The men's oversized hands and fingers are lined with swollen veins, the creases of which are painted in a blood red that recalls the artistic language of Zeng's Meat (1992–4) and Hospital (1991–4) works.
Zeng began to paint the Mask Series in the 90s, shortly after graduating from Hubei Fine Arts College in 1991 and moving from Wuhan to Beijing. By this time, China had resumed its drastic economic revolution and escalated its steps towards globalisation following a period of controversies between Revolutionists and Conservatives surrounding China's economic policies, as well as public unrest that culminated in the 1989 Tiananmen protests. During this stage of China's economic reform and opening up policy, those working in the service industry who benefited from the emerging market system were able to lead a relatively privileged life. In the following decade, consumerism became integrated with urban culture producing a particular social class that zealously pursued a half-hedonistic, half-industrious lifestyle. In the many brightly coloured works of Mask Series, the exaggerated postures and gestures of the figures suggest that the emerging urban rich are eager to show off their polished living status. Yet Zeng satirises such staged displays of happiness and success by depicting his subjects in monotonous business suits, sporting neat hairstyles fashionable among entrepreneurs, and always wearing those face masks – the grotesquely large smiling mouths of which are framed by wide red lips. Though the men in Mask: Rainbow appear sociable, what they represent is far from the kind of collectivism advocated in the past decades by Chinese society; they are a reminder that each individual is still forced, by isolation, anxiety and hypocrisy to protect their vested interests, whilst at the same time needing to display modest compatibility with the country's historical norms, employing the masks as their protection.
Zeng's masks, along with motifs used by his contemporaries such as Yue Minjun's pink laughing faces, Fang Lijun's distorted bald-headed subjects and Zhang Xiaogang's grim family portraits, are symbolic elements that reflect on the challenges ordinary people faced during this period of dramatic social transformation. In these painters' works, Social Realism and Surrealism meet, combining to present a wholly cynical perspective on the country's social orders. In his Mask Series, Zeng examines the dialectical relationship between Social Realist imagery and the hypocrisy of the urban elite through the use of exaggerated choreographed emotions – reflections, perhaps, of the artist's own intrapersonal conflict with his socio-economic status as a successful artist.
It's a poignant coincidence that Zeng himself was born in Wuhan, Hubei Province, where COVID-19 first presented itself. The later works of the Mask Series were completed around 2004, just after the SARS epidemic (which originated in southern China, and precipitated the widespread use of surgical masks across East Asia) was contained. Did the artist ever feel a sense of discomfort when painting those figures wearing face masks? Did he wonder what the real faces of people, half hidden under surgical masks, might look like during that epidemic, as we do now? And how can we even imagine the psychological state of our primary care providers, whose sentiments have become invisible under their layers of protection suits?
Recently, I came across several short videos documenting Shanghai's fight against the latest outbreak, which, at the time of writing, has lasted over three weeks. The roughly-edited, nonofficial footage, circulating on social media channels, shows frontline workers chanting positively-worded slogans, or walking towards the doors of residential houses delivering vegetables, while others record such actions of 'emotional labour' and 'delivered warmth' on camera. In the social media videos, reality is therefore documented twice.
For the past three weeks I've been relying on neighbourhood group purchasing and friends' channels to get food and other living supplies. No one knows how long the lockdown will last. But the community networks that have grown from our current situation have, for me, thrown new light onto the figures in Mask: Rainbow, who lean on one another for support.
Zeng Fanzhi's Mask: Rainbow (1997) is on view at M+ Sigg Collection: From Revolution to Globalisation, at M+ museum in Hong Kong