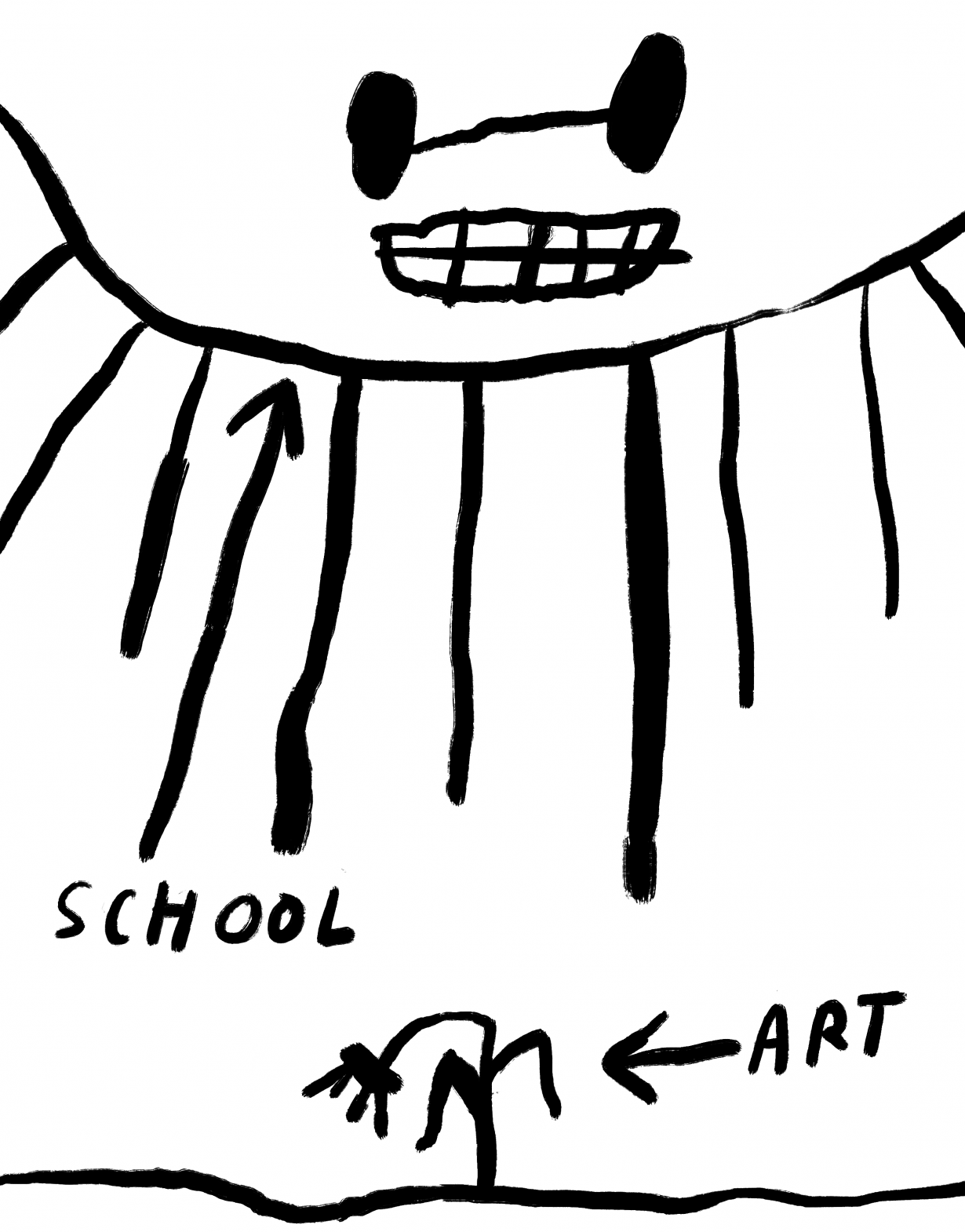 While institutions such as Tokyo University of the Arts and Ho Chi Minh City University of Fine Arts continue to educate young artists, many emerging from such programmes realised their degrees were founded on uncritical technical practices or were too beholden to Western canon (ironically precisely what Okakura Tenshin was fighting against when he set up Tokyo University of the Arts during the late nineteenth century); this is one of the reasons for the emergence of Tokyo's Gendaishicho-sha Bigakkō, founded in the aftermath of the 1968 student movement – an early example to experiment with art education outside established institutions. Not, of course, that Asia as a whole doesn't have a history of radical reinvention, famously Rabindranath Tagore's school at Santiniketan (for more on that, see the menasa section). On mainland China, most artists work their way through the system of established schools, such as the Guangzhou Academy of Fine Arts; though when artist Huang Xiaopeng was fired from that school after experimenting with its curriculum, he established h b Station Contemporary Art Research Centre, which would go on to be a rare – though now-dormant – alternative educational model for the region. In Southeast Asia, projects such as Sa Sa Art Projects in Phnom Penh, and artists like Norberto Roldan of Green Papaya Art Projects in Manila or Redza Piyadasa of Five Arts Centre in Kuala Lumpur developed their own educational initiatives to foster a local arts community and help develop visual identities separate from the Global North's influence. While in Indonesia, Gudskul's emphasis on collective practice provides a handbook for how to work in places without the North's lavish art infrastructure.
---
Linangan Art Residency
Cavite, Philippines
Founded 2018
2–3 months
2–8 participants
Located a few hours outside Manila, Linangan Art Residency operates as an alternative, communal learning and living art school across two sites in Cavite province that seeks to 'develop and define contemporary Philippine Art and Culture'. At its heart are the Punlaan Artist Residency, Amuyong mentorship programme and Pagsibol outreach programme, a series of art residencies, workshops and educational programmes guided by Linangan's network of artists, including Manny Garibay, Leslie de Chavez and Alfredo Esquillo. The Punlaan Residency Programme welcomes two artists twice a year for a three-month residency at the Alitaptap Artist Community, tucked away in lush Amadeo, which culminates in solo exhibitions. The Amuyong mentorship programme in the town of Alfonso, surrounded by tropical nature, hosts eight artists, three times a year, in eight-week programmes. Director Alee Garibay explains that the programmes are focused on three tenets of capacity building: instructional classes on materials, technique and art history; concept development, including critiques, mentor consultations; and community engagement, in which residents cultivate communal living by preparing food, gardening and engaging in environmental cleanup. The Pagsibol programme is a wider educational initiative that opens workshops and classes to the public.
---
Rooftop Institute
Hong Kong SAR, China
Founded 2016
6 weeks
15 students
Founded by artists Yim Sui Fong and Law Yuk Mui, and Professor Frank Vigneron (head of Fine Arts at the Chinese University of Hong Kong), Rooftop Institute is a nonprofit group that promotes 'art learning as a way to engage the social'. 'Rooftop' nods to a traditional space of communal learning in Hong Kong, and the concept has guided the institute to organise artist-led educational research and workshops. The Asia Seed programme organised study tours to strengthen pan-Asian connections, while the workshop series Hok Hok Zaap (learning to learn) has collaborated with local artists such as Jeff Leung and Law Man Lok to develop over 20 'learning kits', centring on family, urban landscape and nature, and experimenting with film. An upcoming workshop led by storyteller and poet Yuen Che Hung will explore emotions, memory and imagination.
---
School of Improper Education
Yogyakarta, Indonesia
Founded 2016
Various programmes
Central to the School of Improper Education is the question, 'What is wrong with education?' The kunci Study Forum & Collective began initially in 1999 as a cultural studies group, founded by artist Antariksa and writer Nuraini Juliastuti, but has gone on to focus on alternative forms of collective study, including establishing the School of Improper Education in 2016. A sprawling set of activities and actions, kunci's artist-led approach reflects many projects of the region, where the boundaries of artmaking and community activism are indistinguishable. Experimenting with different forms of learning, the School of Improper Education aims to challenge Western modes of art pedagogy, authority and individualism, whether through communal writing or collective cooking. Their most recent initiative, Hutan Siswa (Study Forest), consists of multiple clusters modelled after forest ecosystems to encourage 'inter-clump' relationships. These clusters – Diverse Community Members; Intersectional Justice and Treatment; Community Education; Solidarity Economy; and Ecological Sustainability – will produce articles, zines, podcasts and public programmes.
---
T-project
Hangzhou, China
Founded 2017
4–5 years BA
1,690–1,800 students
3 years MA
680–800 students
Oldest among China's art schools, China Academy of Art (CAA) has recently witnessed a plethora of flourishing student art groups that work from within and through the institution. Among them, T-project was started in 2017, in a studio building, as an educational supplement and student community, by Jin Yanan, lecturer at the School of Sculpture and Public Art. The departmental experiment has expanded into a broader enterprise after becoming fully student-led in 2021. Working alongside CCA-based curatorial collective INSCO (Chen Tianqi, Chen Nanxi and Chen Xunchao) and independent film group Mefistofele, T-project is now enriched by a variety of methodologies: the three teams have gathered 15 art groups to stage more than 50 happenings in alternative spaces across Hangzhou in the past year, as part of their citywide curatorial project City Run, started in 2022 and still going. Characterised as a version of nomadic curation (youce), T-project's City Run and the artistic assemblages it generated are visibly transforming the artistic ecology of Hangzhou and of traditional art schools.