Running online 9 – 14 November 2021, 5–7pm IST: register now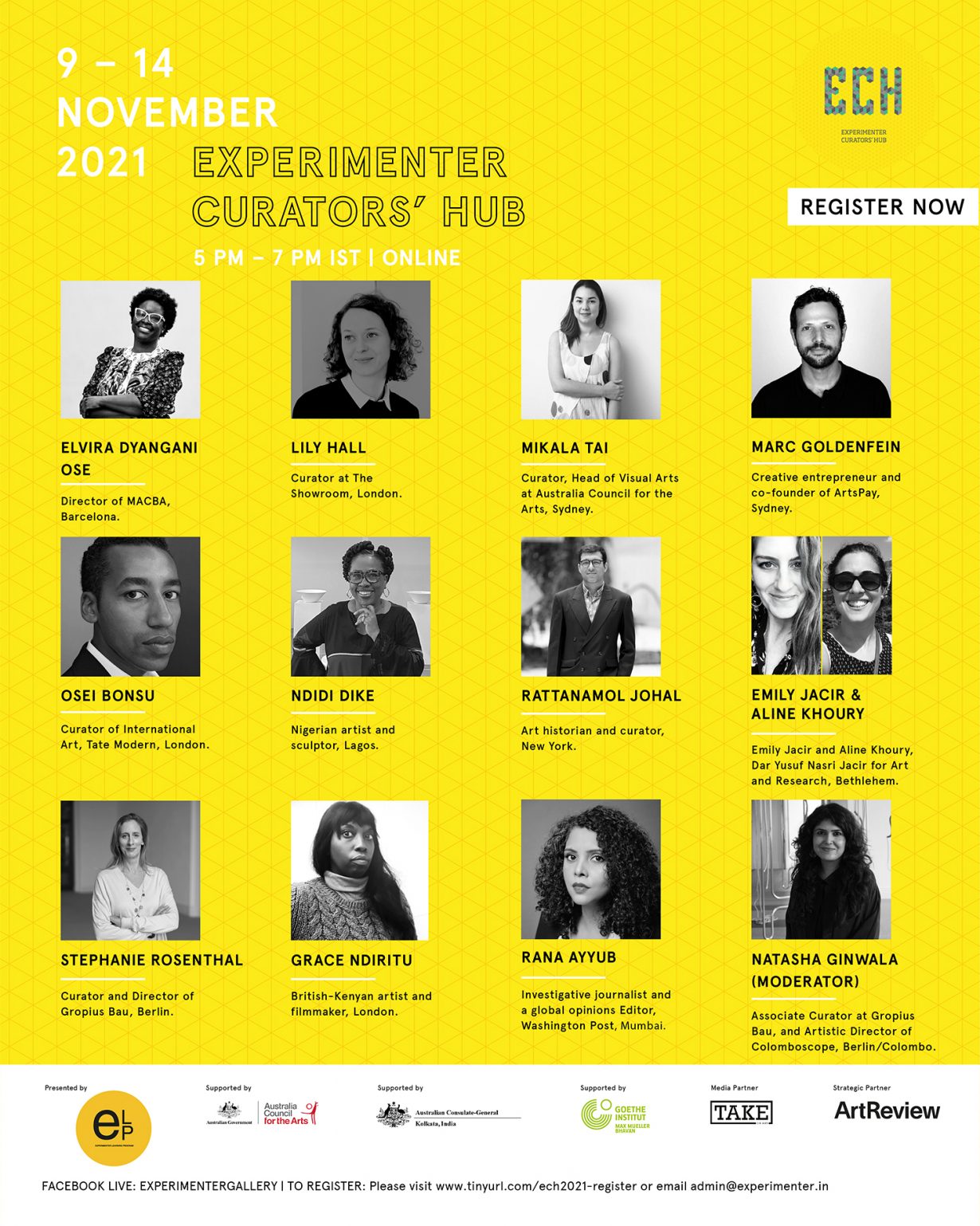 Save the date – the Experimenter Curators' Hub returns for its 11th edition, running online 9–14 November 2021. The Hub is a platform for fostering discourse on curatorial practice and exhibition-making through discussion and debate. Leading curators from around the world are invited to share insights into their work, with reference to their latest exhibitions. Audience members play an active part in contributing to the conversation; the final day of the programme consists of a panel discussion with the participating curators and collaborators.
The Hub will be hosted via Zoom and live-streamed on Experimenter and ArtReview's websites, opening up the conversations to audiences around the world
'Over the past year, we have been thinking how we can be equivocal about issues that confront us, underscore the differences that are inherent in it and yet build a constructive, sustainable dialogue. A way forward is possibly to involve voices that are beyond the scaffoldings of what we consider our construct. We imagine the Experimenter Curators' Hub this year to be inclusive of a multitude of voices, not only of curators but also of individuals who influence the work of curatorial thinking. The Hub will aim to delve into the multiplicities that inform each speaker's practice through the sharing of proposed projects and possible ideas of collaboration,' say Experimenter directors Prateek and Priyanka Raja.
Register now through this link.
And an archive of previous presentations can be viewed here.
Participating curators and collaborators for this year's Experimenter Curators' Hub are:
Elvira Dyangani Ose, Director of Museu d'Art Contemporani de Barcelona (MACBA), Barcelona – collaborating with Lily Hall, Curator at The Showroom, London. 
Mikala Tai, Curator, Head of Visual Arts at Australia Council for the Arts, previously the director of the 4A Centre for Contemporary Asian Art, Sydney – collaborating with Marc Goldenfein, Creative entrepreneur and co-founder of ArtsPay, Sydney. 
Osei Bonsu, Curator of International Art, Tate Modern, London – collaborating with Ndidi Dike, Nigerian artist and sculptor, Lagos. 
Rattanamol Singh Johal, Art historian and curator, New York – collaborating with Emily Jacir and Aline Khoury, Dar Yusuf Nasri Jacir for Art and Research, Bethlehem. 
Stephanie Rosenthal, Curator and Director of Gropius Bau, Berlin – collaborating with Grace Ndiritu, British-Kenyan artist and filmmaker, London. 
Closing Speaker: Rana Ayyub, a Global Opinions Editor at the Washington Post and investigative journalist, Mumbai. 
This year's hub will be moderated by Natasha Ginwala, Associate Curator at Gropius Bau; Artistic Director of Colomboscope, Berlin / Colombo.
Experimenter Curators' Hub 2021 is organised by Experimenter Learning Program Foundation and is supported by Australia Council for the Arts, Australian Consulate-General, Kolkata, Goethe-Institut / Max Mueller Bhavan Kolkata, TAKE on Art (media partner) and ArtReview (Strategic Partner).
About Experimenter
Experimenter was co-founded by Prateek and Priyanka Raja in 2009 in Kolkata, India. With a multidisciplinary approach, the gallery is an incubator for an ambitious and challenging contemporary practice. The programme represents some of the most critical contemporary artists worldwide. The programme, rooted in dialogue and dissent, is considered to be a 'pace-setter' for its region, and extends from exhibition-making, to knowledge creation, through regular talks, performances, workshops and through its much acclaimed, annual curatorial intensive – Experimenter Curators' Hub. A second, more ambitious space was added in 2018, marking an expansion of the gallery's activities and interests. 
The gallery attempts to expand the scope of contemporary practice beyond the ambit of its expected role. In 2016, its artist-book publishing wing was launched followed by the Experimenter Learning Program in 2018 which enables learning in fields of contemporary and performing arts, curatorship, film, writing, language and social culture. In 2019, Experimenter Outpost, an iterative exhibitions programme outside the physical gallery temporarily inhabiting disused, characterful spaces was formed. 2020 marked the beginning of Experimenter Labs – an inclusive, experimental and multi-dimensional online platform in addition to the onsite gallery programming.
The Experimenter Learning Program Foundation (ELPF), initiated in 2018, is envisioned as a longterm, sustainable and multifaceted learning and education programme that keeps visual culture at its root to build discourse. ELPF is the kernel through which Experimenter develops its continued interest in enabling dialogue, discussion and debate in fields of contemporary and performing arts, curatorship, film, writing, language and social culture. The programme has a year-long schedule that includes the annual Experimenter Curators' Hub, salon-style classrooms, symposia, lectures, performances and the Experimenter Juniors Program.