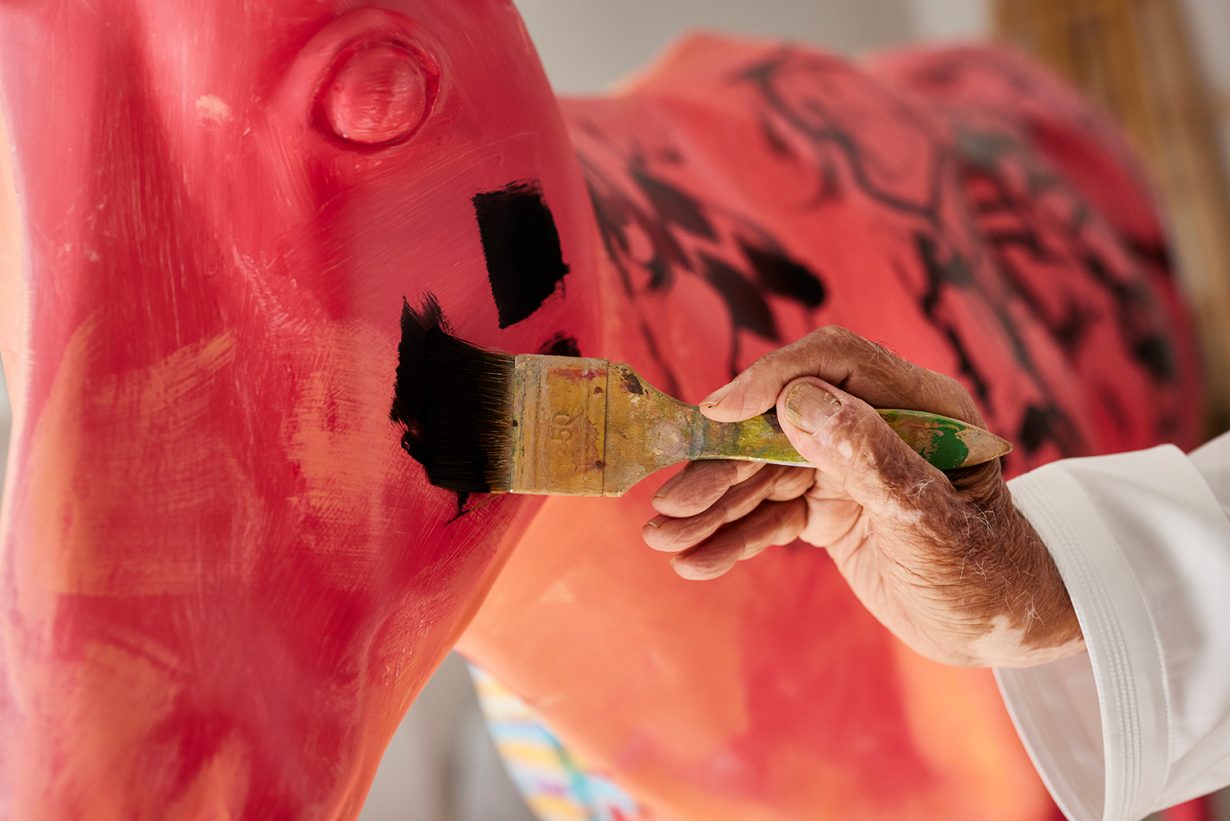 ArtReview sent a questionnaire to artists and curators exhibiting in and curating the various national pavilions of the 2022 Venice Biennale, the responses to which will be published daily in the leadup to and during the Venice Biennale, which runs from 23 April to 27 November.
Aisha Stoby is the curator of the first Sultanate of Oman Pavilion, which features work by Anwar Sonya, Hassan Meer, Radhika Khimji, Budoor Al Riyami and Raiya Al Rawahi. The Pavilion is in the Arsenale.
ArtReview What can you tell us about your exhibition plans for Venice?
Aisha Stoby This is an especially exciting year for Oman as we are exhibiting as a National Pavilion for the first time. For our inaugural presentation, the Sultanate of Oman Pavilion will be displaying works by five pioneering Omani artists: Anwar Sonya, Hassan Meer, Radhika Khimji, Budoor Al Riyami and Raiya Al Rawahi. Together they represent three generations of modern Omani art. I've had the great pleasure of working with them all in various capacities over the past decade, but participating in Venice together has been a very special experience, it's a dream project for all of us. 
AR Why is the Venice Biennale still important? 
AS The Venice Biennale is unquestionably one of the most important art events globally. Its encyclopaedic format has created space for an unparalleled breadth of countries to present what they believe to be some of their most important artists and movements. It is for this reason that the national participation of the Biennale has always been important for me as a curator, as a researcher and as an interested and enthusiastic art viewer. 
Moreover, each Biennale is always relevant in its context, it mirrors the local and global sociopolitical contexts of the time. This is true for both the curated Biennale and the National Pavilions as we see this year. Cecilia Alemani reminded us in her press conference that the postponement of the Biennale in 2021, as a result of the global pandemic, was the first time the Biennale had been postponed since the Second World War. This humbling reminder places this 59th edition, and the context of the Venice Biennale in a larger historic perspective.  
Against this background, I can think of no other arena where cultural practitioners are brought together at this calibre and on this scale. It's truly an honour to be a part of it.
AR Do you think there is such a thing as national art? Or is all art universal?
AS I believe art can be, and usually is, both national and universal. The themes represented in our pavilion do not intentionally draw on national frameworks, but perhaps inevitably relate to identity and local pedagogies.
An example of this is in Hassan Meer's work which draws on memories of his grandfather's house. There are objects in his installation that use a uniquely local language, including Mandoos chests (traditionally made to carry a bride's dowry) and suitcases repatriating objects during a very specific period of national modernisation in the 1970s. Nevertheless, despite this specificity, there is a universality to the themes inherent in his artwork rooted in ideas of home and nostalgia that I believe viewers will be able to identify with wherever they are from.
AR What is misunderstood or forgotten about your country's art history or artistic traditions? 
AS I'm very fortunate to come from a country with a rich, multifaceted history embedded in far-reaching trade routes, multicultural heritage and a strong sense of self. The modern art movements that developed from these contexts perhaps inevitably have many threads and originate from a variety of media across the Sultanate. It is therefore difficult to propose just one version of our national art history or traditions.
Our pavilion gives agency to five voices. Their practices and legacies have been significant and important for our country, but it is my sincere wish that this first representation and the broader conversations that may emerge from it will develop into deeper dialogues on Modern Omani art discourses.
AR How does having a pavilion in Venice make a difference to the art scene in your country?
AS For me personally, and for my colleagues and partners working on this pavilion, representing our country in Venice has been a long-standing aspiration. We are very fortunate to have the support of our Ministry of Culture, Youth and Sport, without whom this would still have been just that – a dream. 
We hope that it will make an impact amongst the wider, global art world, but above and beyond that, it is our sincerest wish that our participation in the Venice Biennale will further activate our local art ecosystems, particularly among our younger local artists.
AR If you've been to the biennale before, what's your earliest or best memory from Venice?
AS I've had the privilege of attending several previous biennales in Venice and am so looking forward to returning. My earliest and most profound impression of the Biennale was how beautiful it was to see a city, and a city as arresting as Venice, transform into a gallery space.
At random, I wish I could have seen one of Harold Szeeman's presentations, and I loved the collateral event inspired by When Attitude Becomes Form at Fondazione Prada in 2013. The Biennale which resonated with me most deeply was Okwui Enwezor's All the World's Futures in 2015, which brought up questions that may be even more relevant today than they were then, and favourite presentations from 2019 included Shilpa Gupta, Michael Armitage and Arthur Jafa. Unsurprisingly I was also blown away by Lithuania's pavilion. The diversity of the Biennale is extraordinary.
AR What else are you looking forward to seeing?
AS So many things. Cecelia Alemani's exhibition of course, from her presentations, it seems as though this will be a very thoughtful and considered Venice. She has drawn on fascinating archival materials and brought together some very intuitive and ethereal pairings. I am looking forward to visiting Nepal's pavilion, they will also be presenting for the first time which is exciting. Also Zineb Sidera's presentation for the French Pavilion, Sonia Boyce for the UK, and I'm so very excited to see the UAE Pavilion, I'm a fan of both the curator Maya Alison and the artist Mohammed Ahmed Ibrahim.